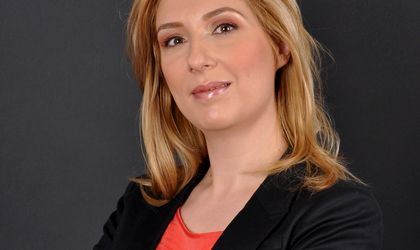 Andreea Bovnoczki, finance business partner at Schneider Electric Romania, was promoted to finance vice president for Schneider Electric Southeast Europe region. Carmen Stanciu, former finance manager, was named in her place in the financial management team in Romania.
Andreea Bovnoczki will coordinate the group's financial activities within a cluster Schneider Electric recently established, covering the countries in Southeast Europe. In her new role, Bovnoczki will report directly to Philippe Sauer, country president at Schneider Electric for Southeast European region, and will continue to work in the office in Bucharest, where she had been part of the local team for the last seven years.
Andreea Bovnoczki has been working for Schneider Electric since 2005 when she joined as a senior internal auditor in France, two years later being appointed Finance Business Partner of Schneider Electric Romania. With a degree from the Faculty of Finance, Insurance, Banking and Stock Markets within the Academy of Economic Studies (2000), Bovnoczki holds a membership in the Association of Chartered Certified Accountants (ACCA) UK (obtained in 2004), the Chamber of Auditors in Romania (2004) and is a certified Internal Auditor (2007).
Carmen Stanciu, the new finance business partner of Schneider Electric Romania, joined the organization in 2008, having previous experience of 7 years in the financial and entrepreneurial fields in Romania. During this period, she held several positions within the company, as senior accountant, chief accountant and finance manager.
In her new position, she will report directly to the Schneider Electric Romania president, Florentina Totth, and will be part of the management team of the subsidiary. Her responsibilities include providing financial support for the operational divisions of Romania and Moldova, decision management process management, managing forecasting exercises and business planning, coordinating all internal and external reporting and performance measurement processes, managing risk exposure, to determine at the same time, profitable growth and improving business cash flow generation.
Schneider Electric is a global company specializing in automation and energy management with operations in more than 100 countries. The company has 170,000 employees and posted a turnover of EUR 25 billion in 2014.
Natalia Martian