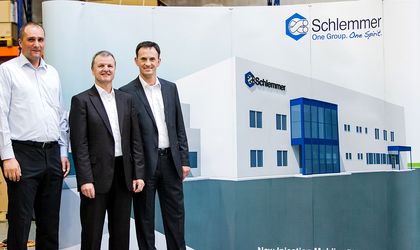 German Schlemmer, the manufacturer of cable protection system, has announced that it has started the second major expansion at its plant in Satu Mare to accommodate a new production line, aiming to double its turnover in the country.
Schlemmer will be constructing a new production hall of about 4,000 sqm on the premises of the plant that became operational in 2004. The new unit should be finished by March 2015.
"In future, Schlemmer Romania will also manufacture injection mould products here; moreover, production capacity for corrugated tubes will increase once again," said Josef Minster, the company's CEO.
The company is currently manufacturing in northern Romania some 70 million metres of corrugated tubing each year for the automotive and industrial sectors. In recent months Schlemmer has brought in Romania a mobile factory to compensate for production bottlenecks.
The number of employees will almost double to 210 next year, in line with the expansion of the production.
"We have built up a highly motivated team here in Romania that is fully committed to working towards more than just the jointly agreed goal of doubling turnover. After the current expansion, we will have used only half of the 2 hectares of land that we have purchased – a lack of space will thus not be an obstacle to a third expansion in future," said Alin Stavariu, general manager of the company in Romania.
Ovidiu Posirca