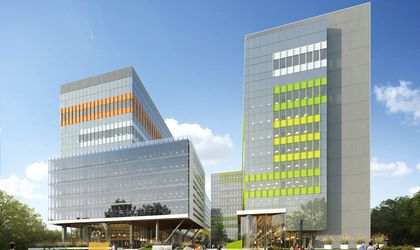 Skanska, developer of Green Court, announced on Monday that the first tenant of the newly opened B building will be Sanofi Romania. The pharmaceutical company leased 2,200 square meters of office space and the move to its new headquarters will take place in Junes 2015. Sanofi was represented by Jones Lang LaSalle in the deal.
At the moment, Skanska has already leased 19,000 square meters of the entire complex. Orange Romania and Schneider Electric have also decided to become Green Court tenants.
"We are delighted to welcome our new tenant, Sanofi Romania. It is wonderful that our project attracts such important companies like Sanofi. (…) I am certain that Sanofi employees will enjoy their new offices and will appreciate all of the building's facilities. As far as construction progress is concerned, soon we will start work on the facade", according to Marcin Lapinski, President of Skanska Property Romania.
"Given their consistent expertise in developing office buildings, Skansa has successfully answered all our needs. I trust that the new office space will favour team work, which is a valuable component in our mission to assure and increase Romanian patients' access to the best therapeutic solutions", says Cristophe Gourlet, Country Manager Sanofi Romania.
B Building in Green Court Bucharest will offer a total space of 18,000 square meters and will have 12 floors, 3 parking levels with 315 spots. The building should be completed in the second quarter of 2015.