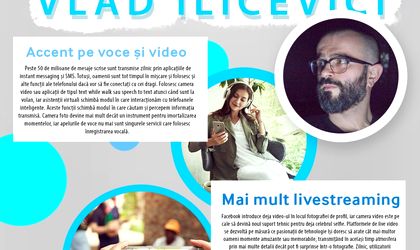 Samsung Electronics Romania presents this autumn's trends, in the second Trends Report Lifestyle Designer, for the ones that want to redefine their lifestyle, with the help of the technology. The Lifestyle Designer platform is based on a local study realized by Samsung, which results show that half of the smart products' users are open to new things, experiences and discoveries and are interested in their personal growth. Moreover, according to the same study, 3 out of 4 users are using smartphones and tablets in order to follow their passions or to develop their abilities.
"The Lifestyle Designer platform launched at the beginning of this year aims to offer experiences and inpiration for the continous transformation of our lifestyle. This Trends Report, created in collaboration with Vlad Ilicevici, Dana Rogoz, Cori Gramescu and Cristian Onetiu, is inspiring us to be more productive and to overpass our limits each day , with the help of the top technology powered by Samsung," said Roxana Grigorean, PR manager of Samsung Electronics Romania.
Multimedia
Smartphone is a popular smart device, used in different situations and contexts. Functions such as text while walk, that use the phpto camera in order to chow the users where they should walk, or speak while driving are already used by millions of people worldwide.
Moreover, in Romania the video platforms are gaining grownd, and according to data, 6,5 million users are visiting monthly YouTube, in search of videos about cooking, sports, news or produc reviews. The smartphones with big screens, such as Samsung Galaxy S6 edge+ of 5,7 inci, are ideal for accesing entertainment content.
Romanita Oprea