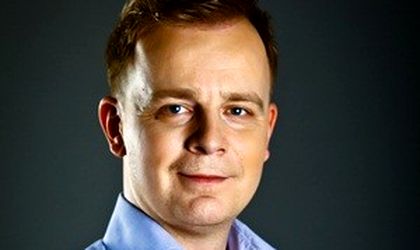 Sameday Courier announced a profit of RON 488,000 (EUR 111,000) for the first half of this year, higher than the profit registered for the entirety of 2014 (EUR 102,000).
"Compared to the same period in 2014, profit for the first half of 2015 is higher by 30 percent. We are trying to approach the result with caution, though. Given the size of the company, such variations are not unexpected, a difference of tens of thousands of euro is more or less normal in this context," said Octavian Badescu, entrepreneur and founder of Sameday Courier.
The company's turnover reached RON 4.41 million (EUR 1 million) during the first half of the year, up 28 percent year on year.
Increased turnover came from all business lines, the largest share being generated by local courier services, especially the same day deliveries. This segment recorded the largest increase, of about 45 percent against the same period last year. Unaddressed deliveries and leaflet distribution have also increased.
According to the company's management, most requests come from the medical area, the e-commerce segment but also from retailers for unaddressed deliveries. Over 50 percent of business is conducted in Bucharest.
For this year, Sameday Courier managers estimate a turnover increase above the market average, reaching between EUR 2 and 2.5 million and double-digit profitability.
"We have a profit target for this year that will allow retention of certain resources within the company, in order to continue both our development and provision of high quality services to our customers, and also reward investors with dividends having a significant yield contained in a 5-10 percent margin," said Badescu.
He said company consolidation is a must in a market that is competitive, holding strong pressure on prices. The entrepreneur added that the market is steadily growing, estimating it will reach EUR 350 million this year.
In February 2015, Sameday Courier became the first Romanian currier service operator listed on the AeRO market of Bucharest Stock Exchange (BVB). Currently, its shares are traded at a price of RON 8.73, the market capitalization of the company operating the brand (Delivery Solutions SA) reaching RON 8.73 million.
"Market capitalization is already approaching EUR 2 million. Shares traded so far are worth over RON 1 million which, considering the size of our company, its presence on a market at the beginning like AeRO is, considering liquidity on BVB, Romania and its full context, it is not a small success. Let's not forget that we won in terms of visibility and positioning also – Sameday Courier is the first Romanian company listed on the Aero, but also the first courier operator listed on an exchange market in Romania," said the company founder.
Sameday Courier is a courier operator in Romania specialized in same day deliveries, both at home and abroad. It currently is the main supplier for over 1,000 large companies in Romania.
Natalia Martian