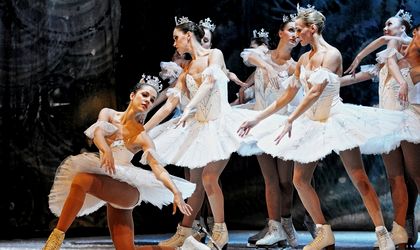 Warning
: Invalid argument supplied for foreach() in
/var/www/html/business-review/wp-content/themes/business-review/strawberry/setup/gallery.php
on line
71
Next year, the Saint Petersburg State Ballet on Ice will perform seven shows for Bucharest, Cluj-Napoca, Timisoara and Sibiu. In Bucharest, the skaters will deliver the premiere of "Romeo and Juliet" show on January 19, at Sala Palatului, starting 19.00. 
Other shows in the series include Tchaikovsky's "Swan's lake" and "The Nutcracker." Konstantin Rassadin, a former soloist of the world-famous Mariinsky Ballet, and a school-mate of Rudolf Nuriev, is the artistic director of the shows series. It is for the first time in the world that real classical ballets in classical ballet costumes and sets are performed on an ice rink installed on stage of the theater.
The Saint Petersburg State Ballet on Ice presents 80 ballet-skater dancers, most of them internationally rewarded for artistic skating, and also exceptional choreographers. For these performances, two tones of ice will be needed as well as a few hundred costumes. The multiple World and European champions double Olympic champions Ludmila Beloussova and Oleg Protopopov; multiple World and European champion, Olympic champion Alexei Ulanov; multiple prize winner of the World and European figure-skating competitions and Olympic games Ludmila Smirnova danced in the ballet at different times. There are about 20 dancers in the company who have the honorable titles of the Masters of Sports of Russia for the victories at the all-Russia and international figure-skating competitions.
The Saint-Petersburg State Ballet on ice (former the Leningrad State Ballet on ice) was founded in 1967 by the outstanding choreographer Konstantin Boyarsky, and is the successor of the remarkable traditions of the St.Petersburg school of the classical ballet.
Since 1995, the Saint-Petersburg Ballet on Ice has been performing on stage of opera theaters. It shows the most famous ballets by P. Tchaikovsky: "Sleeping Beauty", "Swan Lake", "The Nutcracker" and "Cinderella" by S. Prokofiev.
For the last five years these productions have been successfully performed on the best stages of the USA, Canada, Netherlands, Germany, China, Spain, Korea, Taiwan, Greece, Portugal, Ireland, Serbia, Romania, Slovenia, Turkey, Switzerland, Colombia, Argentina.
The tickets can be purchased from the Eventim network. Two adult tickets bought until January 1 come with a 50 percent discount for a children's ticket.
Oana Vasiliu