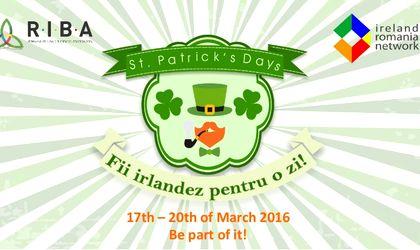 The celebration of the patron saint of Ireland, Saint Patrick, will be marked in Bucharest by a spectacular parade organized by the Ireland Romania Network this Sunday.
The parade will start at Boulevard Kiseleff at 15:00 and will continue along Calea Victoriei, coming to a halt in front of the Romanian Athenaeum.
The parade will be led by Derek Feely, the ambassador of lreland to Romania and John Long, president of the lreland Romania Network. The Mayor ad interim of Bucharest, loan Razvan Sava has also been invited,
The event will gather various artists, over one hundred pipers and drummers and two Irish dancing groups, Irish way and STEY-sha. A twenty-strong pipe band is travelling over from County Donegal in Ireland for the parade and they will be joined by pipers from many parts of Romania and from Varna in Bulgaria. Forty guide dogs, born and raised in Ireland, will also participate, dressed up in green outfits. There will be floats, lots of balloons and surprises for the participants, especially the children.
As a preview of the parade, the pipers will have a rehearsal in Herastrau Park on Saturday, at 12:00.
On Saturday evening, there will also be a St Patrick's street concert in the historical Lipscani area, commencing at 17:00. It will feature lots of Irish dancing and both Irish and Romanian music, including pipers from Ireland and Hungary, among other acts.
Every year, on 17 March, Irish people from all over the world and those who feel close to Ireland and her culture and traditions join together in celebrating St Patrick, the saint who brought Christianity to the country.
Romanita Oprea