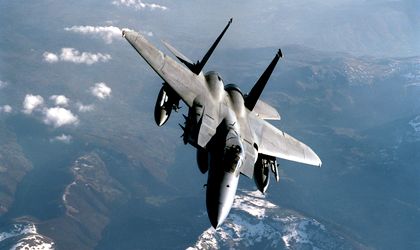 Any country that adopts hostile measures towards Russia, especially closing off its airspace to Russian planes, needs to know that it will become the target for a retaliation, according to Aleksei Puskov, head of the International Affairs Commission of the Russian Duma.
"Any state that enforces hostile actions towards Russia must be aware that it will become the target of a retaliation of the same nature. If we feel that Russia is being pressured, especially by affecting governmental flights, it's time to show we are capable of the same", Puskov said, quoted by Mediafax.
On Saturday, Romania has closed its air space to the plane of Russia's Deputy Prime Minister Dmitry Rogozin, who is returning from Transdniestria to Moscow.
"Upon the U.S. request, Romania has closed its air space for my plane. Ukraine doesn't allow me to pass through," Rogozin tweeted on Saturday.
However, he said the sanctions would not make him cancel his future trips to Tiraspol (Transdniestria's capital).
"Next time, I'll fly on board Tu-160 [variable swept-wing strategic bomber]," he said.
Two days before, the deputy premier had transport problems on his way to the capital of the self-proclaimed republic where he attended a Victory Day parade. His plane, headed for Moldova's capital Chisinau, was not allowed to fly into Ukraine's air space, so he had to make a detour through Bulgaria and Romania.
Rogozin versus Ponta
After MAE demanded explanations for Rogozin's threatening tweets and after president Traian Basescu reacted by saying that the Russian official "is probably under the influence of Vodka", Dmitry Rogozin continued the series of offending tweets on Monday.
This time, the target for his vitriol was prime-minister Victor Ponta.
"I draw the attention of Russian MFA to the statement of this politician http://moldnews.md/rus/news/67474", the deputy minister tweeted.
The link leads to a news item about statements made by Victor Ponta on Sunday.
Victor Ponta on Sunday said that Russia's Deputy Prime Minister Dmitry Rogozin had been playing the part of a provocateur in Romania and Moldova and that he personally managed the refusal to let Rogozin fly over Romania, because President Traian Basescu was canvassing in Arad.
'I guess Deputy Prime Minister Rogozin is playing the part of a provocateur in Moldova and Romania. (…) A blacklisted person such as Rogozin – and he was not the only one as there is another MP of Russia's Duma – is not allowed either to enter Romania or transit through it. That is the reason why we forbid his passing through Romania's airspace. It was not the US to tell us what to do. We want to be with the US and Europe. We have done our job very well; I acted as the commander-in-chief because the commander-in-chief was busy doing something else,' Ponta told Antena 3 private broadcaster.