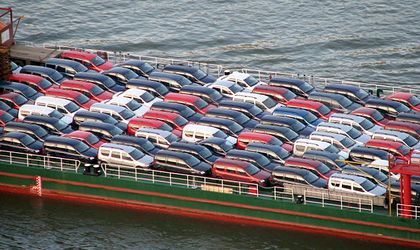 A third of Romanian exports to Russia are represented by automobiles, recording an increase of USD 500 million last year to USD 1.84 billion, while electric equipment represent a quarter of deliveries. Dacia, Arcelor Mittal, Michelin and Danfoss are the top brands Russians are attracted by.
Vladimir Putin has banned the import of agricultural goods from countries that have imposed sanctions on Russia. Russian government officials have been told to draw up a list of western agricultural products and raw materials that will be banned or restricted for up to one year Russia's veterinary watchdog Rosselkhoznadzor said imports of beef and cattle from Romania were to be suspended, citing an outbreak of mad cow disease.
The National Veterinary Authority quickly reacted, stating that "Romania doesn't have any commercial relations of the sort with Russia".
Russia is Romania's 7th commercial partner (after Germany, Italy, Hungary, France, Turkey and Poland), with a share of 3.4 percent of total. Vehicles represent the main group of exported goods -33.75 percent, followed by cars, electric equipment -25.7 percent, chemical products -12.4 percent, various products (furniture)- 5.08 percent, metals and metal products -4.85 percent, plastic materials -4.08 percent, wood, wood coal -3.98 percent, and vegetal products -2.8 percent. Crude oil and products dominate imports from Russia, with a share of 64 percent in 2013, followed by natural gas -17.2 percent, plastic materials -3.2 percent, ores – 2.7 percent and common metals -2.3 percent.
Russia does import a lot of food though. In fact, it is the world's 5th biggest food importer, USD 39 billion worth, or 3 percent of world food imports in 2012. according to Business Insider.  Russia imported about USD 43 billion worth of food products in 2013, according to Russian customs data, of which the banned goods accounted for nearly USD 9 billion, writes WSJ.
Romania will be one of the less affected countries by Russia's food-import ban, given that last year it exported only USD 7 million worth of food products. Other European food producers will not be quite so lucky. For instance Poland and Norway will loose a commercial partner that last year bought food of over EUR 1 billion in value (for each country). Netherlands, Spain and Germany are also going to fill the sting.
Photo source: WSJ