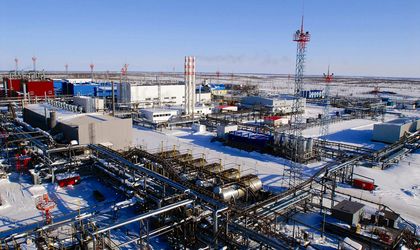 Ukraine-Russia talks over gas supply broke down on Sunday, with OAO Gazprom halting shipments to Ukraine a day later. The supplier is only providing enough gas to Ukraine's pipeline system to meet demand from European customers and not the country's needs, Ukraine's state gas company said, quoted by Bloomberg.
Ukraine must pay its debt and then will only receive gas paid for up front, Gazprom Chief Executive Officer Alexey Miller said today after a deadline of 10 a.m. in Moscow passed without receiving payment. Gazprom's spokesman Sergei Kupriyanov said, quoted by The Guardian: "Gazprom supplies to Ukraine only the amount that has been paid for, and the amount that has been paid for is zero."
The Romanian Energy Ministry reacted on Monday afternoon to calm fears that the country might suffer because of the collapse in negotiations between Russia and Ukraine.
"We are concerned about this situation …Romania will not encounter a major problem and we're ready to cope with any situation," Nicolescu told reporters. "Of course, we would like to see these differences settled as soon as possible."
Nicolescu backed up his claims by stating that the country had amassed 1.35 billion cubic metres of natural gas in underground storage and that he hoped the country would sustain an injection rate of 10 million cubic meters of gas per hour with a view to having more than 2 billion cubic metres stored by mid-October.
The US Energy Information Administration estimates that 16% (3.0 Tcf) of the total natural gas consumed in Europe passed through Ukraine's pipeline network, based on data reported by Gazprom and Eastern Bloc Energy. In the past, as much as 80% of Russian natural gas exports to Europe transited Ukraine. This number has fallen to 50%-60% since the Nord Stream pipeline, a direct link between Russia and Germany under the Baltic Sea, came online in 2011.
PM Ponta: We have gas reserves to last us for 6 months
The United States requested through its State Department that Ukraine and Russia return to the negotiation table to resolve the gas supply issue.
"The Europen Union has presented an acceptable compromise. (…) We ask Russia to reinitiate negotiations", according to Jennifer Psaki, State Departement spokeswoman.
Warwick Business School Professor of Global Energy Michael Bradshaw: "European gas supplies are not under immediate threat"
Michael Bradshaw, Ukraine Warwick Business School Professor of Global Energy, is a renowned researcher into the Russian gas industry and he believes that  "given that we are in the summer and the level of gas storage in Europe remains high after a mild winter, the immediate threat to gas supplies is not going to be as significant as they were in 2006 and 2009 when the disruptions happened in the winter.
"But if this drags on for longer it could have a significant effect on gas supplies and prices this winter. The market will be jittery. The gas price spiked when the trouble in Ukraine first started, but it came back down, so it will be jittery again", Bradshaw adds.
To highlight this point, Bradshaw offers the example of UK, a country with a modest amount of gas storage who in periods of heightened demand, like the cold snap in March 2013, becomes dependent on European gas markets.
"Everyone is a loser in this stalemate. It is doing Russia reputational damage and the EU is stiffening its resolve to reduce its reliance on Russian gas, but many European companies have contracts into the 2020s with Gazprom. Ukraine feels the gas price being offered is inflated for political reasons. The discounts on offer are not of the scale they were before the change in Government in the Ukraine. Despite its efforts, the EU has been unable to broker an agreement and you sense it won't be resolved until the political situation between the Ukraine and Russia is. This is a litmus test of the relationship between Ukraine and Russia. The only way out is for the EU to persuade Ukraine to accept an agreement and be financial guarantors. In the longer term Ukraine has to reduce its structural dependence on Russia through domestic reforms, otherwise it will always be vulnerable to political factors."