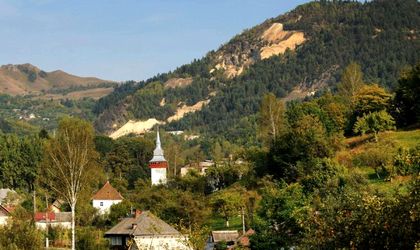 Rosia Montana has been officially declared a historical monument, protecting it from any mining activity, Adrian Balteanu, counselor with the Ministry of Culture said, as quoted by Agerpres.
The area had been under scrutiny for some years as Gabriel Resources, a Canadian resource company aiming to mine the gold and silver deposits announced intentions to use cyanides for its open-pit mining comprising four principal deposits at Cetate, Carnic, Orlea and Jig. The company said at the time of the launch of the project that it would generate USD 24 billion in direct and indirect benefits for the country and create thousands of jobs.
Last summer, the company asked for arbitration at the International Centre for the Settlement of Investment Disputes of the World Bank, seeking compensation for losses caused by stalls in the process, due to high pressure from environment activists and the large public. As information on prior mining in the area has started to surface, large protests have led officials to reject a bill giving Gabriel the rights for exploitation. The project had been put on hold since the summer of 2014, leading the company to seek compensation.
"Gabriel's mine was irrevocably rejected by Romania's civil society despite the company's attempts to conduct costly cosmetic surgery to hide its ugly mine together with its disastrous effects to the environment, cultural heritage and human health. Its manipulative media campaigns were considered as an insult by many Romanians," said Stephanie Simon at the time, legal adviser of the Alburnus Major NGO.
Alburnus Maior is an NGO based in Rosia Montana, representing the interests of local property owners who since 2000 oppose Gabriel Resources' proposal on social, environmental, cultural and economic grounds.
According to experts, this project presents risks of pollution and risks destroying a number of mining galleries dating from Roman times, unique in Europe.
"The Ministry of Culture is finally dealing with heritage conservation," said history professor Ioan Piso, one of the opponents of the project. According to Piso, Rosia Montana was a historical monument until 2004, when the site was removed from the list, one of the numerous irregularities that occurred during the project.
Rosia Montana Gold Corporation (RMGC) is the company under which extraction activities were meant to proceed. It was founded in 1997, in Alba County, having as shareholders Minvest Deva, a state-owned company holding a 19.31 percent stake and Gabriel Resources, with 80.69 percent.
Natalia Martian