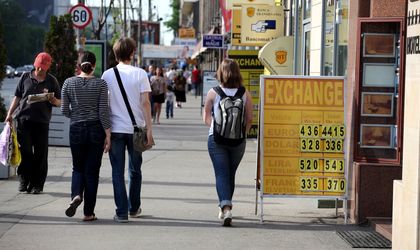 The Romanian currency RON fell to a new historic low against the European currency, according to the National Bank of Romania (NBR), which posted an RON/EUR exchange rate of 4.4662 on May 24.
The RON lost 0.17 percent against the previous day, when the EUR/RON stood at 4.4587. The RON depreciated by 0.57 percent since May 21.
The RON/USD exchange rate stood at 3.5538, up 0.75 from the previous day. The RON depreciated by 2.2 percent against the US dollar since May 21.
One gram of gold gained 0.9 percent to RON 177.9481 on May 24 against the previous day.
"The interbank exchange rate is not established by the Romanian Government but I still believe the special committee which is coordinated by the National Bank Governor, where the Ministry of Finance also participates, has all the instruments and necessary capacity to keep the situation under control," said PM Victor Ponta on Wednesday.
Adrian Vasilescu, counselor of Governor Mugur Isarescu, said on Wednesday the depreciation of the RON is caused by the "bad news" in the Euro zone of a possible Greek exit, which affected other currencies in the region as well. Vasilescu said the RON had the strongest resilience, adding the NBR has the right instruments to prevent the situation from spiraling out of control. The NBR intervenes indirectly in the market by selling Euros.
Ovidiu Posirca