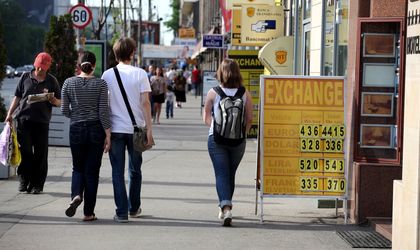 The Romanian currency RON appreciated on Monday against the euro and the US dollar after President Traian Basescu survived an impeachment vote, as the voter turnout didn't exceed the 51 percent threshold required by the Constitutional Court.
The euro depreciated against the RON, losing 1.21 percent to RON 4.5558, while the US dollar fell by 1.3 percent to RON 3.7086. One gram of gold lost 1.48 percent to RON 193.0316.
"While the RON may gain some ground, it will probably be short-lived as political tension is likely to pick up once again. There is likely increasing pressure on the coalition to recover the possibly lost ground after the apparently failed attempt to impeach the president," said Vlad Muscalu, economist at ING, in a note to investors, quoted by Bloomberg.
Muscalu said the central bank could use the calmer market conditions to prop up the RON.
Ovidiu Posirca