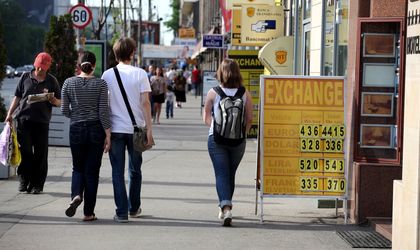 The Romanian currency RON has continued to depreciate against the euro on Monday, breaking the 4.6 mark towards a new historic low, just as Romania entered the last week of campaigning on the impeachment referendum of the suspended President Traian Basescu.
The euro was up against the RON, gaining 0.35 percent to RON 4.6009, while the US dollar appreciated by 1.5 percent to RON 3.7999 to a new historic high. The Swiss franc gained 0.36 percent to RON 3.8314. One gram of gold moved up by 0.8 percent to RON 192.025.
In the year to date, the RON fell by 6.4 percent versus the euro, by 14.4 percent against the US dollar and by 8 percent versus the Swiss franc.
Ovidiu Posirca