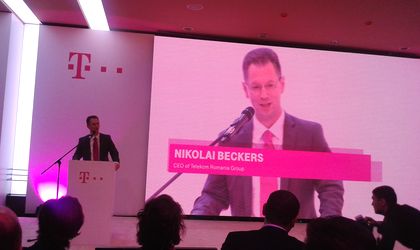 Telecom operators Romtelecom and Cosmote will have a new brand identity as Telekom Romania starting September 13, following a nearly EUR 15 million investment, the company announced in a special press conference on Friday.
Romtelecom and Cosmote are part of Greek Group OTE and German group Deutsche Telekom.
The press conference was attended by Romanian prime-minister Victor Ponta, ANCOM president Catalin Marinescu, as well as local and regional officials of OTE and Deutsche Telekom, such as Claudia Nemat,member in the Deutsche Telekom board for Europe and Technology, Hans-Christian Schwingen, chief brand officer, Deutsche Telekom AG, and Nikolai Beckers, CEO of Romtelecom and Cosmote Romania.
PM Ponta remarked during an opening speech that Romania went up 17 positions in the world competitiveness ranking, and investors are interested in coming and investing in Romania as a national and regional markets, among the investments he mentioned were the Deutsche Bank Technology Center in Bucharest, the Bosch production unit inaugurated in Cluj and the Daimler production unit in Sebes.
Ponta also promised that the Romanian economic climate will become more friendly for investors since, "what all investors in Romania have accused- excessive labor taxation- will be tackled by the soon to be implemented reduction in social insurance contributions (CAS).  Ponta also said he watches Dolce TV and uses internet from Telekom Romania.
Romtelecom and Cosmote make first move under the T brand
The new Telekom brand experience and commercial offers can be seen via integrated fixed and mobile shops, a unified call center, one new website www.telekom.ro, and one social media presence starting Saturday, September 13.
The two companies now operating under the same brand will launch a new IPTV platform and all-inclusive communication packages. The new convergent offers will be launched next week and will offer mobile and fixed communication services, mobile and fixed data and television services.  The prices for the all-inclusive packages range between RON 444 and RON 91, and also include smartphones and tablets, depending on the offer.
"Telekom Romania enters the market with a one-stop-shop philosophy. On a single bill, customers of Telekom Romania Communications will have four times unlimited communication: for mobile and fixed broadband, mobile and fixed voice and also TV entertainment. In addition, all packages from Telekom Romania will include access to the new interactive Telekom TV, web and mobile services," according to the press release of the company.
Moreover, Telekom Romania will launch an online platform called Telekom TV, which will provide multiscreen experience, regardless of device, exclusive content for hundreds of hours of entertainment and a personal TV experience, since it gives customers full control of what and when they wish to warch their favorite program.
"We have invested over EUR 1 billion over the past five years in Romania, we have nearly 10 million customers and employ over 9,000 people in this country (…) Our vision in Romania is to become the number one integrated operator on the market, to change market rules  and transform our operating value. (…) We have one integrated team, we aligned the culture and mentalities in the two companies, we started to offer our customers integrated technologies and we invested in the network," said Nikolai Beckers, CEO of Romtelecom and Cosmote Romania.
"The Romanian market is very heavy in infrastructure but also very price driven. You have to balance what the consumer wants with the costs," said Beckers.
" After Germany and Poland, Romania is the third largest market where we have T in Europe, " said Nemat. "We are very open to collaborations with local and international partners and entrepreneurs. As Telekom Romania, we would really like to contribute to ICT programs, education, eHealth programs as we do in other countries," said Nemat, extending an invitation to the Romanian PM.
Otilia Haraga