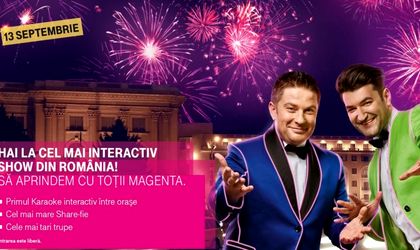 Telecom operators Romtelecom and Cosmote Romania, which are part of the Deutsche Telekom family,  started the campaign which precedes the introduction of the new Telekom Romania brand on the local market.
Romtelecom and Cosmote Romania will change their legal name to Telekom Romania Communication and Telekom Romania Mobile Communications, respectively, and will begin to operate on the market under the brand Telekom Romania by the middle of September.
On September 12, Romtelecom and Cosmote will officially announce the new brand identity under which the two companies will run activities in Romania during a press conference.
The next day, the Telekom Romania brand will be launched through a series of dedicated events, which will take place in Bucharest, in George Enescu Square, in Iasi at Palatul Culturii Esplanade and in Cluj-Napoca at Unirii Square, under the tagline "Turn on Magenta."
During an interactive show, hosted by Romanian stars Smiley and Bartos, who also appeared in ads for the products advertised by the two companies, the events will be connected between cities. There will also be a live transmission from a launch event hosted also in Berlin, for Germany to welcome Romania into the international Telekom family.
The show will be controlled by consumers using the HAI! application which can be found in the Play Store and App Store. Thus, consumers can vote for the next songs that will be performed on stage, participate at the biggest "share-fie", attend the first interactive karaoke between cities, and sing famous songs together with acclaimed singers and renowned bands, such as Inna in Bucharest, Horia Brenciu in Cluj-Napoca and 3SudEst in Iasi.
At the end of the show, they will jointly turn on the Magenta experience across all three cities.
Consumers are expected at Romtelecom and Cosmote's rebranding celebration on Saturday, September 13th, starting with 6 p.m. The entrance is free of charge.
Otilia Haraga