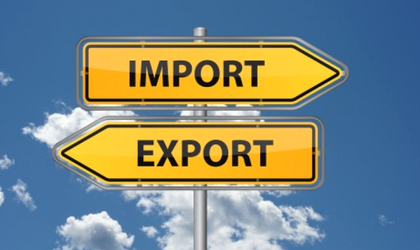 In 2015, the trade deficit in Romania was of EUR 8.37 billion, EUR 2.31 billion more than in 2014, according to data published by the National Institute of Statistics (INS). In total, FOB exports amounted to EUR 54.59 billion and CIF imports to EUR 62.97 billion.
In December 2015, FOB exports were of EUR 3.94 billion and CIF imports were EUR 5.12 billion, with a trade deficit of EUR 1.17 billion being registered. Compared to November 2015, there was a 17 percent decrease in exports and a 7.5 percent decrease in imports in December 2015.
For the year 2015, of the total FOB exports, 44.5 percent were machinery and transport equipment, followed by 32.8 percent in other manufactured products, 8.8 percent for food, beverages and tobacco, 4.9 percent in chemicals and related products, 4.5 percent in raw materials and 4.5 percent mineral fuels, lubricants, etc. As for total CIF imports, machinery and transport equipment accounted for 37.3 percent of them, other manufactured products for 31.0 percent, chemicals and related products for 13.7 percents, food, beverages and tobacco for 8.5 percent, mineral fuels, lubricants, etc., for 6.4 percent, and raw materials for 3.1 percent.
The intra-community trade of goods (inside the EU) amounted to EUR 40.24 billion for dispatches and to EUR 48.58 billion for arrivals in 2015, representing 73.7 percent of the total exports and 77.2 percent of the total imports, says INS. The extra-community trade of goods (outside the EU bloc) was of EUR 14.36 billion for exports and EUR 14.38 for imports, representing 26.3 percent of the total exports and 22.8 percent of total imports.
Andreea Tint