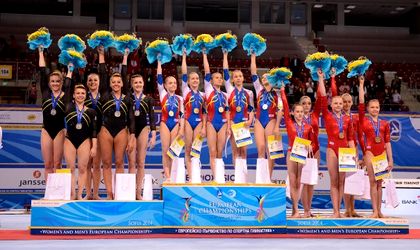 Romania's senior women's artistic gymnastics team have won European gold with an incredible performance in Sofia, the 7th in their portfolio. The team made up of Stefania Stanila, Silvia Zarzu, Larisa Iordache, Diana Bulimar, Andreea Munteanu finished their performances with a total score of 172.754, which won them the gold.
The format of the competition meant three girls competed on each apparatus with every score counting to the team total – and so every performance mattered.
Great Britain's team won the silver with 170.663 points and Russia came in third, completing the podium with  a score of 169.329.
Romania obtained the following scores in the team finals:
Vault – Stefania Stanila nota 14.666, Silvia Zarzu 14.633 şi Larisa Iordache 14.866
Bars – Stefania Stanila 13.500, Diana Bulimar 14.133, Larisa Iordache 13.966
Beam – Diana Bulimar 14.533, Andreea Munteanu 14.933, Larisa Iordache 14.700
Floor– Andreea Munteanu 14.133, Diana Bulimar 14.225, Larisa Iordache 14.466.
The women's championship close on Sunday with the individual apparatus finals, when Romania will be represented by Larisa Iordache (all the apparatus finals) and Diana Bulimar (beam). The delegation"s objective at the competition is obtaining three or four medals.