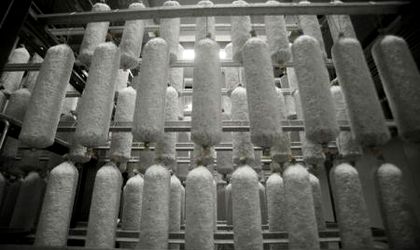 The European Commission, the executive arm of the EU, has granted the protected geographical indication (PGI) for "Salam de Sibiu", a dried raw salami with noble mould. 
This is the second product that gets the PGI status in Romania, after the plum jam "Magiunul de Topoloveni".
At present, there are over 1,300 food products that are protected in the EU.
"The industrial process for manufacturing 'Salam de Sibiu' includes manual stages that have kept the production method intact. The hand-to-eye coordination required to chop to the size of a 'grain of rice', the în ploaie ('raining'] method used to add the salt and seasoning mix, the manual checking of the firmness of the stick during smoking, maturation and drying, the loading of stores by hand and the brushing by hand of each stick require a high level of know-how and skill, most often passed down from generation to generation, in workers with the experience and intuition needed to obtain the characteristic taste of 'Salam de Sibiu'.
'Salam de Sibiu' is an emblematic product that producers constantly present at national and international trade fairs. It is always the first product that visitors, customers, the authorities and the press ask to taste", according to a description of the product published in the Official Journal of the EU.
Ovidiu Posirca