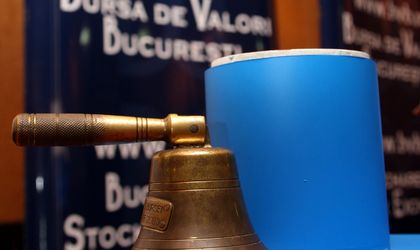 The government approved on Friday the IPO pricing in Romgaz, the state-owned natural gas producer, in the biggest offering on the Bucharest Stock Exchange (BSE) set to start on October 21.
The state aims to raise between EUR 311 million and EUR 416 million for a 15 percent stake in Romgaz, which is the biggest gas producer and supplier in Romania. The pricing ranges between EUR 5.4 and EUR 7.2 per share (RON equivalent). The offering runs through to October 31. 
The listing is part of Romania's privatization program agreed with the IMF.
"It's a quotation established after a marketing report of the consultants' consortium and it's close Petrom's price," said Constantin Nita, delegate-minister for energy, quoted by Agerpres newswire. "The novelty is the listing in London. It's the first Romanian company listed in London, and we hope that other Romanian companies will be listed in London," added the minister.
Romgaz said last week that shares will be sold in London through global depositary receipts (GDRs), along with the offering on the domestic market.
Small retail investors have a 15 percent tranche, while the rest has been allotted to large institutional investors. There will be a five percent discount in small investors for the first week, and three percent for the second week of subscription.
Following the IPO, the Ministry of Economy will hold at least a 70 percent stake in the company, while the Property Fund, managed by Franklin Templeton, will maintain its existing holding of 15 percent.
Goldman Sachs International and Erste Group Bank have been appointed as joint global coordinators and joint bookrunners for the IPO. Banca Comerciala Romana and Raiffeisen Capital & Investment are domestic lead managers.
In 2012, the company produced 5.7 billion cubic meters (cbm) of natural gas, which is half of all domestic output and covered 41.7 percent of domestic consumption. Romgaz noted Romania is the biggest gas market in the CEE, after Poland, with consumption standing at 13.5 billion cbm last year.
The gas producer is mainly active in Romania, operating more than 3,000 wells, but is also involved in regional exploration projects.
In gas storage, Romgaz holds a commanding 90 percent share, owning six underground deposits with total working volume of 2.76 billion cbm.
According to DeGolyer & MacNaughton, a petroleum consultancy, Romgaz held net proved reserves of 62.1 billion cbm of gas and net probable reserves of 13.2 billion cbm as of June 2013.
Romgaz is set to benefit the most, along with Austria's OMV Petrom, from the deregulation of the gas market. Authorities will align gas prices to EU levels for industry and households by 2014 and 2018, respectively.
The gas producer entered the electricity business this year, after acquiring the Iernut gas-fired power plant, with an installed capacity of 800MW.
The company reported first half net profits of USD 177 million and revenues of USD 575 million. The company expects to pay out around 85 percent of its net income as dividends this year.
Ovidiu Posirca