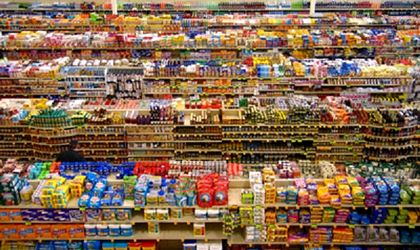 Romania saw a 12.1 percent increase y-o-y in retail trade in October, the largest among EU member states, show data from Eurostat, the statistical office of the European Union.
Our country's retail trade saw a rather large jump ahead as compared to other member states, with Lithuania (6.6 percent) and Estonia (6.5 percent) following at a distance. Decreases were observed in Luxembourg (-8.2 percent), Bulgaria (-1.3 percent), Belgium (-0.7 percent) and Finland (-0.3 percent), while the European median increase reached 3.1 percent.
However, data from the National Institute for Statistics (INS) show an annual increase of 11.1 percent in retail trade, mostly supported by food, beverages and tobacco sales (25.1 percent rise in adjusted series and 23.8 percent in gross series). Automotive fuel (11.3 percent and 8.6 percent increases, respectively) and non-food products (up 3.9 percent and 3.3 percent) held smaller shares.
According to the INS data, over the previous month the retail trade saw a more modest increase of 0.7 percent (adjusted), aided by automotive fuel sales (5.1 percent) and food products (0.4 percent), while non-food retail dropped 0.5 percent. In gross series, the 0.4 percent rise recorded in overall trade was driven by fuel sales, which advanced by 6.2 percent. On the other hand, drops were registered by the sale of non-food products (-2.3 percent) and by the sale of food, beverages and tobacco (-0.3 percent).
During the first ten months of the year, retail saw a 6.9 percent advance in adjusted numbers, while gross series showed a 7.4 percent rise.
Natalia Martian