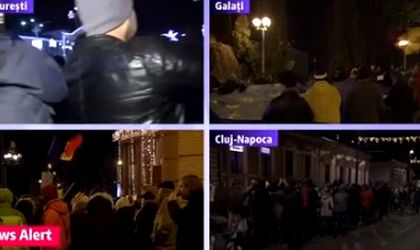 The leaders of Romania's main opposition parties USR and PNL joined more than 10,000 protesters in Bucharest, on Sunday evening, asking the center-left coalition PSD-ALDE to drop controversial amendments to the justice laws. Thousands more took to the streets in other cities such as Cluj-Napoca, Iasi and Galati in support of the judiciary and the fight against corruption.
"Justice, not corruption", "Rezist, not give up" and "PSD, the red plague", were some of the words shouted by protesters in the Romanian capital. Some carried crosses, which had words written on them such as "missing pharmaceuticals", "tuberculosis" and "family doctors".
The leader of the National Liberal Party (PNL), Ludovic Orban, said the planned changes will destroy the independence of the judiciary. The amendments are being fiercely debated in Parliament and the final vote might take place next week. The ruling coalition had initially planned to vote on the changes this week, but the opposition protested and was able to delay the move.
"For one year, in Parliament, we are witnessing a constant attack against the fundamental rights and freedoms of Romanians (…) against the independence of the judiciary. Gradually, PSD is capturing Romania," said Orban in a press conference.
He was joined by Dan Barna, USR head, and Dacian Ciolos, the former PM who announced that his NGO Platform Romania 100 will turn into a party. Representatives of NGOs and other civic associations are also backing the initiative of the opposition.
The changes to the justice laws were covered in the international media and the US Department of State "urged the Parliament of Romania to reject proposals that weaken the rule of law and endanger the fight against corruption."
Photo source: Digi24 screen grab