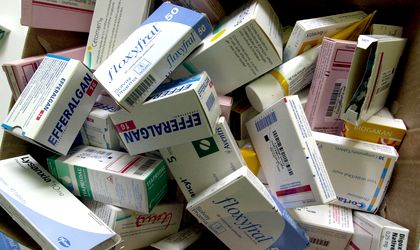 While the pharmaceutical sector expanded by 5 percent to EUR 2.7 billion in 2012, industry players are warning that this year's growth will be hindered by Romanians' impeded access to healthcare services, combined with delayed payment terms and a controversial claw-back tax.
By Ovidiu Posirca
The amount of medicines granted to patients in the retail segment increased by 2.6 percent to EUR 2.3 billion last year, according to the Pharma & Hospital Report by Cegedim Romania, a data provider for the pharmaceuticals industry. Meanwhile, the hospital segment gained 6.4 percent to EUR 356 million.
Prescription-based medicines (Rx) grew by 1.8 percent last year to around EUR 1.9 billion, while over-the-counter (OTC) drugs rose by 6.6 percent to EUR 375 million.
Petru Craciun, general director of Cegedim Romania, who reckons that market difficulties have started to impact even the strongest companies, predicts the market will increase by 1.4 percent this year in the local currency, falling when expressed in foreign currencies.
"The most important issue is not necessarily found at company level, although their problems have multiplied, but in the quality and availability of the medicines for patients, and of healthcare services in general," stated Craciun.
Diana Ionescu, senior consultant, advisory services, at the professional services firm PwC Romania, says the industry has a poor outlook with marginal growth that will make it vulnerable to any legislative changes.
Romania faces generics conundrum
In an industry dominated by innovative medicines, the generics are trying to gain ground on the backdrop of a hostile legal environment.
The innovative sector represented 75 percent of the market and around 25 percent of the volume in 2012, Dan Zaharescu, executive director of the Association of International Pharmaceuticals' Producers (ARPIM), told BR. The rest belonged to generics, which are medicines whose patents have expired, allowing other firms to make and market their own versions.
Although they dominate the market, producers of originals argue they can't introduce new products to the market and have to wait 300 days to receive payments from the National Insurance Body (CNAS). In addition to long payment terms, producers are owed RON 6.3 million (EUR 1.4 billion), debt that has built up since 2010.
"It is more than six years since the list of subsidized medicines has been updated, and Romanian patients are still waiting for innovative medicines that have been available in Europe for many years," said Zaharescu. He suggested that raising healthcare financing could solve this issue. Cegedim estimates this would cost RON 94.3 million (over EUR 21 million), adding 1.5 percent in fresh expenditure to the budget.
Dragos Damian, president of the Romanian Association of Generic Pharmaceuticals Producers (APMGR), fears the update would impose an unfair burden on the industry if the government doesn't introduce both innovative molecules and those that already have a generic or biosimilar equivalent.
"If this decision is implemented without taking notice of these aspects and without an adequate increase of the health budget, it will increase the fiscal pressure on the producers of generic medicines, who will be forced to pay a higher claw-back tax for the larger profits of innovator companies with medicines on the waiting lists," Damian told BR.
In spite of the tough market, the innovative industry has invested heavily in clinical testing. ARPIM estimates that companies have invested between EUR 100 and 200 million locally in 2012.
Romania has some of the lowest regulated medicine prices in the EU, in an effort to give more Romanians access to treatment. This has led to constant growth in the parallel trade of pharmaceuticals.
"Parallel exports have become a profitable phenomenon which is becoming more prevalent," said Zaharescu. He added that these exports soared by 40 percent to EUR 700 million in 2012.
Cash-strapped governments in Europe have started to pay closer attention to healthcare budgets and are looking at ways to reduce expenditure, while Romania takes the opposite view, according to Damian.
Ionescu of PwC stated that generic pharmaceuticals penetration is an increasing trend in most countries in both Eastern and Western Europe. She says Romania is characterized by a low consumption of OTC and generic pharmaceuticals.
"The evolution of generics as a percentage of total prescription drugs consumed has oscillated in the past, but the long-term trend supported by changes in regulation is for the weight of generics to increase. However, it will still take time for Romania to reach the average of the other CEE countries," Ionescu told BR.
The European Generics Association (EGA) suggests that many high-profile innovative medicines are expected to lose market exclusivity over the next years, which will allow governments to make healthcare savings by turning to generics, added Damian.
Tax prescriptions
Since its enactment in 2009, the claw-back tax has been the subject of heated debate in the pharmaceuticals industry. Executives said the tax was necessary but its mechanism was flawed. The claw-back has reached its fourth version and was declared partially unconstitutional last week because it included VAT in the calculation mechanism.
"The many disputed aspects of the claw-back tax and the recent ruling regarding partial lack of constitutionality make it more likely that the tax will be modified in the future," said Ionescu.
She added that the claw-back was a burden for producers who are already in a cash-restrained industry and have had to curtail investments and even the production of medicines in some cases.
"Overall, the negative effect of the claw-back tax and of cash insufficiency on the market was visible in 2012 in lower growth rates than previous periods," said Ionescu.
Zaharescu explained the Romanian version of the claw-back is unique in Europe as it obliges producers to cover the pharmaceuticals deficit, which is established arbitrarily and doesn't taken into account the real consumption needs.
Efthymios (Makis) Papataxiarchis, ARPIM president, recently told BR in an interview the industry had paid around EUR 1.1-1.2 billion, according to some calculations.
APMGR members paid around RON 75 million (EUR 17 million) under the claw-back over 2009-2011 and around RON 250 million (RON 56 million) in 2012. Out of these sums, approximately RON 50 million (EUR 11 million) represented payments for VAT and the mark-up of distributors and pharmacists.
The current fiscal environment has forced some generics producers to put investments on hold, at a time when job creation is critical for Romania's economic recovery.
"Due to the current unfavorable fiscal framework, several generic companies have delayed investments worth EUR 25 million, initially planned to start in 2012, and most companies have re-evaluated their local production, including by limiting their activities in Romania," said Damian.
APMGR is lobbying for a claw-back that exempts medicines with a production price below RON 30 (EUR 6), to ease pressure on producers that continue to provide basic pharmaceuticals.
"To reach a tax formula accepted by producers, it is important for the claw-back calculation mechanism to take into account the real consumption of medicines in the previous year and the production price, not the shelf price," said Zaharescu.
Ionescu of PwC said that changes in the legislation, such as a new claw-back tax or the transposition of an EU directive combating late payments in commercial transactions, could impact the development of the market significantly with immediate effect.
Zaharescu adds the new directive will be enforced next month, reducing payment terms to 60 days. He said the sector should benefit from the government's decision to allot a sum in this year's budget to the payment of arrears.
Ovidiu Posirca