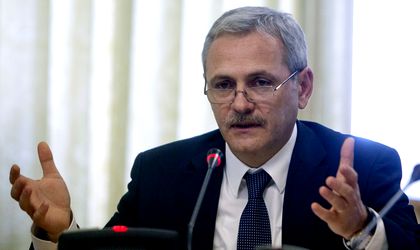 The Romanian Chamber of Deputies voted against the so-called "defamation" draft bill put forth by Liviu Dragnea (in photo), leader of the Romanian Social Democratic Party (PSD), on Wednesday, according to Mediafax newswire. Dragnea, who attributed the final decision to problems with the electronic voting system, has said that he will reinitiate a law with the same content.
Claiming that decisions are no longer made by politicians, but by electronic cards, Dragnea said that "because of this system a law either passes or not," further adding that "I don't want this law to be voted through so-called rule breaking."
The draft bill raised controversy on Wednesday when it was initially announced that it had passed only for the final vote to be contested afterward, according to Mediafax. Ultimately, PSD MP Florin Iordache, president of the meeting, announced that the law didn't meet the conditions for being adopted.
Alina Gorghiu, who has previously spoken against the draft bill warning that the law would mean freedom of expression would come at a steep price in a post on her Facebook page earlier this week, asked Dragnea during the Chamber meeting not to encourage his colleagues to break the regulations and insist on retaking the vote, according to Mediafax.
The law elicited concerns also from U.S. ambassador to Bucharest Hans Klemm who issued a statement on Monday saying that "the protection of free speech, even if offensive, is a foundational aspect of a healthy democratic society", and clarifying that the U.S. opposes laws that would prohibit offensive speech at the expense of freedom of expression.
Andreea Tint