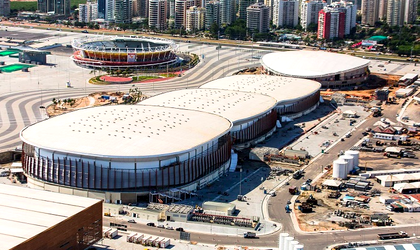 At the Paralympic Games which will take place in Rio de Janeiro this autumn, Romania will be represented by 12 Paralympic sportspeople in athletics, cycling, judo for the visually impaired, kayaking, swimming and table tennis.
On December 11, 2015, the national tv station TVR presented the ten Paralympic athletes from Romania which were qualified for the Paralympic Games in Rio 2016: 1 (athletics); 2 (canoe); 2 (cycling); 1 (judo for the blind); 2 (swimming); 2 (Table Tennis), and still four on the way to qualify.
The National Paralympic Committee received EUR 12,000 from the registration fees of the DHL Marathon, Carpathians Relay and from donations, for the training of Paralympic sportspeople.
"All the funds to be collected at the 2016 edition of the DHL Marathon and Carpathians Relay will be donated to those athletes who will represent us in the Paralympic Games in Rio. I wish them good luck and I hope they return home with as many medals as possible," said Daniel Kearvell, Managing Director DHL Express Romania.
"Sport represents for disabled people an excellent way for them to integrate into society. Due to the sportspeople's willpower and the support received, Romania is now acknowledged worldwide for medals obtained in Paralympic sports. We are very grateful that the DHL Marathon has chosen to support our athletes' efforts and we thank all those who got involved in this project," said Sally Wood-Lamont, President of the National Paralympic Committee.
Also, the organisers of Corporate Games will donate some of the participation fee for the National Paralympic Team. The event takes place in Poiana Brasov next weekend.
Four years ago, in London, our Paralympic delegation at the olympics consisted on only five representatives. Cyclist Eduard Novak returned then from London with two distinctions, a golden medal and a silver one.
More information about these sportspeople are available on the National Paralympic Committee Facebook page. 
Oana Vasiliu