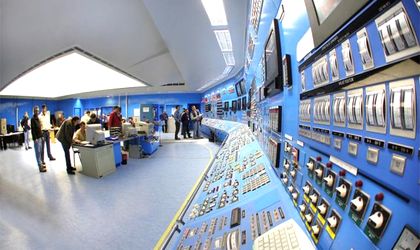 The energy department said on Monday the government raised RON 281 million (EUR 63 million) from listing a 10 percent stake in state-owned Nuclearelectrica, the nuclear power producer.
Following the listing, the company increased its share capital by RON 312 million (EUR 70 million), which includes a 1.07 percent stake of minority shareholder Property Fund.
"Nuclearelectrica's listing of the Bucharest Stock Exchange is part of an ambitious program pursued by the Romanian Government through the privatization calendar, in relationship with the IMF," said Constantin Nita, delegate-minister for energy, in a statement.
The government sold 90 percent of the shares at a price of RON 11.2, covering the tranches of institutional investors (85 percent) and of major investors (5 percent) that subscribed more than 15,000 shares. The rest went to small retail investors, which paid RON 10.3 in the first subscription days for a share and RON 10.8 for the remaining offering period.
The tranche of 10 percent for small retail investors was oversubscribed almost six-fold, while that of major investors more than two-fold.
Nita told reporters that almost 30 percent of the investors that subscribed the shares were based in the US.
Nuclearelectrica's listing comes six years after the IPO in state-owned Transgaz, the gas transmission company.
The company is one of the biggest players in the energy sector, covering 20 percent of Romania's power consumption. It operates two nuclear reactors with a combined installed capacity of 1,413MW.
The nuclear company is controlled by the Ministry of Economy, which holds a 90.3 percent stake, while the rest owned by the Property Fund, the EUR 3.5 billion closed-end fund managed by Franklin Templeton.
The government plans to attract investments for two new reactors in Cernavoda, which have a price tag of EUR 6 billion. Romanian officials recently met with Chinese companies with enough financial clout to build projects of this scale.
The IPO in Nuclearelectrica was part of the precautionary agreements signed with international lenders of the likes of the IMF and the World Bank.
The intermediary consortium that handled the offering included brokerages Swiss Capital and BT Securities. Law firms Musat & Asociatii and Hogan Lovells managed the legal aspects.
Ovidiu Posirca