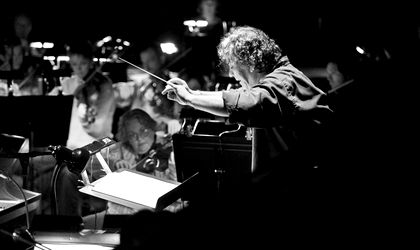 On Friday, November 27, the National Radio Orchestra will held a concert dedicated to our National Day, an event which will gather four Romanian worldwide-known artists under the wand of Nicolae Moldoveanu: violinist Rafael Butaru, pianist Rebeca Omordia and cellist Razvan Suma.
This concert offers a reunion with one of the best known scores of the Russian symphonic repertoire – Pictures of an exhibition, signed by Mussorgsky, a suite in ten movements and it is dedicated to the friendship that the musician had with the artist and artist and architect Viktor Hartmann who has died at the age of 39. After his funerals, Russian artists helped organize an exhibition of over 400 Hartmann works in the Academy of Fine Arts in Saint Petersburg, Russia in February and March 1874, and Mussorgsky, being inspired by Hartmann's works, composed Pictures at an Exhibition. The music depicts an imaginary tour of an art collection. Titles of individual movements allude to works by Hartmann; Mussorgsky used Hartmann as a working title during the work's composition.
Also, the public will hear Freischütz by German composer Carl Maria von Weber, considered the first lyric creation of German romanticism. Last but not least, the evening will end with The concerto for violin, cello, piano and orchestra of Romanian composer Paul Constantinescu.
The concert can be heard live on Radio Romania Cultural and Radio Romania Musical and streamed live at www.romania-muzical.ro and www.radioromaniacultural.ro. Tickets are available on www.eventim.ro in Germanos, Orange, Vodafone, Domo, Carrefour, Carturesti, Humanitas in OMV filling stations and the Radio Hall ticket office.
Oana Vasiliu