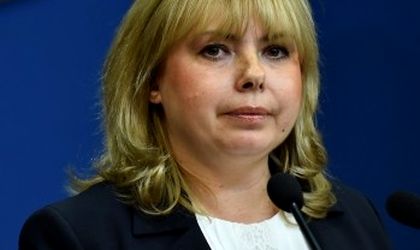 The Romanian minister of finance, Anca Dragu, has asked the president of the tax administration agency ANAF, Gelu Diaconu, to resign after the National Anticorruption Directorate said Wednesday evening he was prosecuted in a corruption case.
Dragu has also asked ANAF vice-president Mihai Gogancea-Vatasoiu to step down, as the official is prosecuted in the same case.
"The ANAF is one of the most important institutions in Romania, and its management mustn't raise any suspicion. With the president and vice-president of ANAF prosecuted, it is normal for me to ask for their resignation. There mustn't be any doubt regarding the integrity of ANAF's management," stated Dragu according to a press release.
The minister added that ANAF's activity hasn't suffered any setbacks.
"We are looking at several options for the new management of ANAF and we will make a decision as soon as possible," said Dragu.
The DNA say the ANAF head and vice-president issued two orders exempting the payment of healthcare contributions by people that were fictitiously employed by the Association Partida Romilor Pro Europa, an organization working to integrate Roma people on the local labor market. This association had received public funds to employ people using civil conventions. More on this, here.