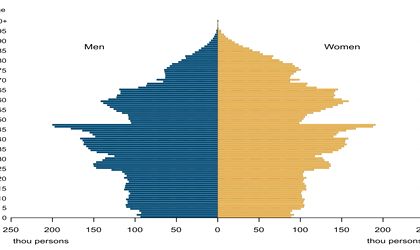 According to data from the National Institute for Statistics (INS), the net international migration balance for 2014 was negative, with 42 thousand more emigrants than immigrants. In 2014, as in 2013, the number of women emigrating was larger than the number of men (104,887 versus 79,716), reaching 56.8 percent.
When it comes to immigrants, from the total of 142,426 people coming to our country 55.1 percent of them were men.
At the beginning of the year data showed our population numbering 19,861,408 people, with 10,140,792 women and 9,720,616 men. The female population showed a drop of 0.6 percent compared to the same date of the previous year, while the male population presented a 0.18 percent increase.
Urban residents were fewer by 0.5 percent compared to last year's numbers, reaching 10,695 thousand persons.
Demographic ageing became more pronounced compared to January 2014, with a decrease in the number of young persons aged 0 to 14 years (3,072,273 versus 3,090,080 in 2014) and an increase in the number of elderly persons aged 65 and over (3,375,703 from 3,297,437 in 2014).
The ageing index increased from 106.5 (January 2014) to 109.9 elderly persons per 100 young persons in January 2015.
The share of the population aged 0 to 14 in the total population remained constant (15.5 percent) in the two years, but the share of the population aged 65 and over in the total population increased from 16.5 percent in 2014 to 17 percent in 2015. Thus, the age dependency ratio increased from 47.1 (January 2014) to 48.1 young and elderly persons per 100 adults (January 2015).
The share of work active population (aged 15 to 65) reached 67.54 percent in 2015 (13,413,432), a decrease from 13,774,916 in 2014.
Natalia Martian
Make sense of Romania.
Is there something that puzzles you about Romania? You might also be interested  in this.