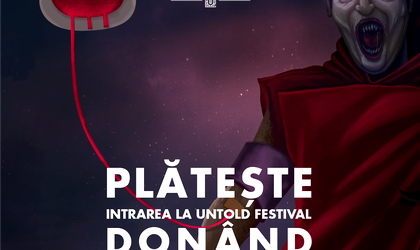 Romania currently occupies the penultimate place in Europe when it comes to number of active blood donors, according to the National Institute for Blood Transfusions (INTS). Nationally, only 1.7 percent of the population donates blood, and most become donors only when they need to help a person close to them, shows data from INTS.
This has led to a novel collaboration between UNTOLD Festival and the INTS, the "Pay with blood" campaign which accepts blood donations for festival tickets.
From July 14 to 24 blood donors in regional and county transfusion centres will receive discounts on subscriptions to the UNTOLD Festival after filling their donor data on www.untoldfestival.com. Furthermore, between July 17 and 19, all those who will donate blood at the mobile caravan in Bucharest, located at the Charles de Gaulle entrance to Herastrau, or between July 20 to 21 at the Blood Transfusion Centre in Cluj-Napoca, will receive tickets to the festival.
"UNTOLD Festival takes place in Cluj Napoca, in the heart of Transylvania, a place that made Romania famous worldwide for its Dracula legends. Given that Romania is facing an acute shortage of blood in medical facilities, a campaign inspired by these legends to draw attention to a real problem is more than welcome. Through the "Pay with blood" campaign we want to raise awareness on this need and contribute to increasing the number of donors in Romania," said Bogdan Buta, general director of UNTOLD Festival.
UNTOLD Festival is an electro-dance-music festival taking place in Cluj-Napoca between July 30 and August 2, under the Cluj-Napoca 2015 – European Youth Capital  project.
Natalia Martian