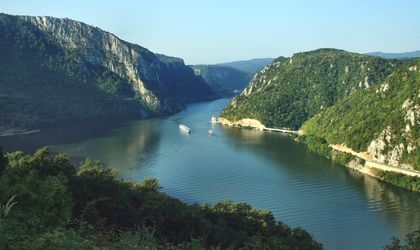 The Iron Gates Natural Park (in Romanian: Portile de Fier) has obtained the approval of UNESCO to become the second biosphere reserve in Romania after the Danube Delta, Anne Juganaru, the secretary of state in the Ministry of Environment told Mediafax.
The initiative belongs to professor Ioan Jelev, chairman of the Romanian National Committee MAB (Man and the Biosphere Programme) – UNESCO. The necessary documentation has been developed for two years, and sent on September 30 to UNESCO, which approved the declaration of the park as a biosphere reserve.
This was the first step in the procedure, followed by a second step which comes from the Ministry of Environment, which will promote a draft resolution for the proposition, needing approval from the government.
In our country only the Danube Delta has this status. Before 1989 Pietrosul Rodnei and Retezat Mountains were declared biosphere reserves, but they have not met the new criteria to retain this status due to the absence of human settlements, said Juganaru.
At the same time, the secretary of state for environment emphasizes that this status may increase the standard of living and quality of life for local communities from within the biosphere reserve.
"A biosphere reserve fosters sustainable development through the balance achieved between concerns for environmental protection, social and cultural preservation of traditions and economic activity. The presence of human settlements within the biosphere reserve is a feature and binding which is not found in national natural parks. In many such reserves, local communities have gained immensely from promoting local products under the label and logo biosphere reserve," said Anne Juganaru.
She said there are many positive consequences that come with such a move, including the development of tourism and preservation of cultural traditions and popular area under the aegis of UNESCO, the prospect of developing cooperation with Serbia through the future establishment of a transboundary biosphere reserve similar to the Danube Delta, given that the Serbian side has established a system of protection and nature conservation in the National Park Djerdap (which together with the Iron Gates Natural Park creates an ecosystem), and the setting and implementation of other important international conventions in the field of environmental protection.
The Iron Gates Natural Park, located in the territories of the counties of Caras-Severin and Mehedinti, covers an area of ​​over 115,000 hectares, being one of the largest natural parks in Romania (second after Maramures Mountains). Romania has 17 natural parks.
Natalia Martian