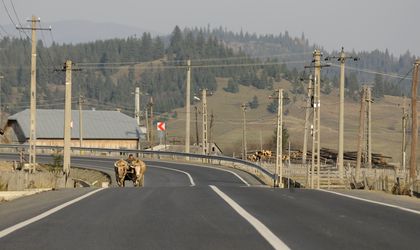 New public tenders for infrastructure projects may be put on hold, due to lack of funding and political changes, although the underdeveloped transport network hits big exporters, notes AECOM, the technical and management support services company, which advises the government on Romania's transport masterplan, reports Mediafax newswire.
The masterplan includes the main roads that will be constructed in Romania with EU money, including motorways and national roads.
"Investments into infrastructure are at a critical level, and the underdeveloped road transport network has a negative impact on the operations of large exporters such as Dacia and Ford," said Steve Morriss, CEO for Europe of AECOM.
French car maker Renault, which owns Dacia, recently said that future investments in the country depend on the expansion of the road infrastructure, which would help it lower car delivery times from the Mioveni plant.
"We expect that part of the public tenders will not be launched this year, given the fact that many projects lack adequate financing," said Morriss.
AECOM says that some 70 km of motorway, mainly on the fourth Pan-European Corridor, will be completed this year in Romania, citing data provided by local authorities.
Morriss says that 75-080 percent of the projects that AECOM works in Romania are backed by public funds, while the rest have private financing, the biggest share of them in shale gas explorations. The company is working with US oil majors Chevron and ExxonMobil on shale exploration projects in Romania and abroad.
The company has 167 employees and nine offices in Bucharest and the rest of the country.
AECOM's portfolio includes the CEFIN Logistics Park and Gallery in Arad, City Mall and the residential complex Maresal Averescu in Bucharest and the design and supervision of rehabilitation works on the DN1C-DN17 road.
Ovidiu Posirca