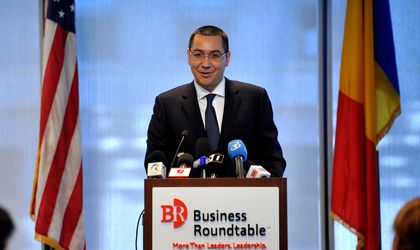 After meeting with representatives of large US-based corporations on Monday, PM Ponta said the government will continue to back the development of the local shale gas industry, as part of its strategy to achieve energy independence.
Ponta added the government is "very determined" to support all companies exploring shale gas in Romania.
The PM spoke with Tom Holst, the president of Chevron Romania, during his official visit in the US. Chevron's shale explorations in Romania suffered a setback last week, after protests erupted in one of its survey sites.
The oil major pulled out all its staff and equipments from the Pungesti site in eastern Romania. In the meantime, the company was able to start explorations in another concession in the Dobrogea region.
Speaking about shale gas protests that were held over the past wells in different parts of Romania, including Bucharest, the PM claimed Chevron needs to "communicate more clearly" the economic gains, as well as the technical and environmental implications of shale gas projects.
He suggested there will always be a "radical minority" opposing any arguments, but they can't impact any decision on a strategic objective for the nation.
According to the PM, Romania can achieve energy independence by tapping both conventional onshore oil and gas deposits, as well as offshore and shale resources.
Local protesters are particularly concerned by hydraulic fracturing (fracking) – the technique involves the pumping of water, sand and a cocktail of chemicals into the ground to crack shale rocks and release gas.
Environmentalists claim shale gas exploitations run a high risk of polluting ground water and creating earthquakes.
In the face of growing criticism for shale projects, the Romanian PM pointed to the American experience in this field, claiming the US was set to win a "great battle in the global economy" by using cheaper resources.
"The America gas price is at one third of Europe's, and in the last year around one million new jobs have been created in the exploitation of shale gas and oil," said the PM, quoted by Agerpres newswire.
Romanian policymakers have claimed in the recent period that shale gas will allow Romania to cut its reliance on expensive Russian imports. President Traian Basescu even went so far as to say that Russian oil major Gazprom opposes Romania's shale gas and offshore projects. He claimed Romania would become a gas exporter and take over part of Gazprom's market.
Ovidiu Posirca