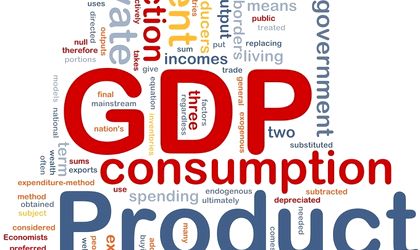 Romania's economy registered a 3.7 percent growth during the first nine months of 2015 as compared to the same period of the previous year, while in the third quarter there was a 3.6 percent advance year on year, according to data released by the National Institute for Statistics (INS).
In seasonally adjusted series, the GDP reached RON 527.58 billion (EUR 118.16 billion) during nine months. Except for agriculture, forestry and fishing, all other industries contributed to the economic advance, with significant positive contributions coming from wholesale and retail, automotive, transport, storage and horeca, with a share of 16.7 percent of GDP.
Other strongly positive influences came from industry (22.7 percent share in GDP) and taxes (12.6 percent). Information and communication, with a 6.7 percent share in GDP, recorded a significant increase in activity volume (12.8 percent).
Data shows that final consumption of households, whose volumes increased by 5.7 percent, contributed by 3.5 percent to the GDP growth rate, while gross fixed capital formation had a 6.8 percent increase in volumes, determining a 1.5 percent contribution to the economy.
At the same time, net export recorded a negative contribution to the GDP growth rate (‐1.0 percent) being influenced by the volume increase of exports of goods and services, by 5.7 percent, in correlation with a higher increase of the volume of imports of goods and service, by 8.0 percent.
In the third quarter of the year the GDP reached RON 178.43 billion (EUR 39.96 billion) in adjusted series, increasing by 1.4 percent over Q2 in real terms.
The seasonally adjusted series of quarterly GDP were re‐adjusted as a result of the revision of the estimates for Q3 2015, but no differences were recorded as compared to the previous version, shows the INS.
Natalia Martian