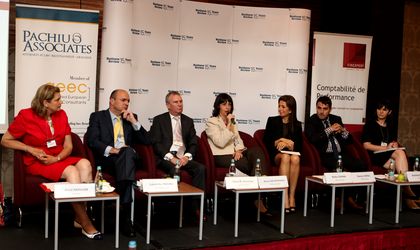 The experience of US-based companies that have invested in Romania and the challenges facing newcomers were outlined at the fifth annual American Investors Forum, organized  in late June by Business Review.
By Ovidiu Posirca
IT, automotive, oil and gas, and agriculture are fields in which there are still attractive conditions for newcomers, according to Anca Harasim, executive director at AmCham Romania, a business advocacy group.
Speakers commented that Romania is still grappling with lack of stability and the high turnover of public servants, who are changed every time a new political regime comes to power.
Catering for investors
Laurentiu Pachiu, managing partner at law firm Pachiu & Associates, described how some of his clients found it much easier to work with local authorities than with central government.
"Talking with central government is messy," said Pachiu. "My advice to foreign investors is to be patient." He added that the authorities are lacking a strategy to attract investments.
Nadia Crisan, managing director at McGuireWoods Consulting Romania, noted that the prime minister has decided to create an agency specialized in attracting foreign investors under his umbrella. She added that the people working in this agency should understand what is needed for a business plan.
Crisan recommended the government put a road-show together with private investors in order to attract additional investment.
Foreign investors would like a one-stop shop to give them all the information on the domestic investment regime, according to Razvan Iorgu, managing director at CBRE Romania, the commercial property and real estate services provider.
The company invested heavily in training its staff between 2009 and 2011 in preparation for the recovery of the market.
"We are finally seeing, after a 2012 in which we had a lot of time off, that we have things to do," said Iorgu.
Making IT big
Intel, the US-based chipmaker, officially inaugurated its software R&D center in Romania in the spring of 2012.
Today, there are 150 engineers and collaborators working in the center, according to Monica Ene-Pietrosanu, Romania R&D country manager at Intel Corporation.
She said the company had selected Romania because of its EU membership status, the existence of intellectual property laws at EU standards and the proximity to customers in the region, as well as the openness from the academic field to working with Intel.
"We don't have enough computer science graduates and I'm saying it loud and clear that I'm not looking here for quantity, I'm looking for quality. The IT area can increase Romania's competitiveness and needs investments that can come from both sides – from the Romanian state and from companies that want to operate here," said the country manager.
She suggested the government draw up a strategy to support R&D activities, given that Romania scores big in creativity and has strong talent in IT.
Ene-Pietrosanu commented that Romania is still grappling with brain drain in the IT sector, and the tax exemption for software programmers has only slowed, not halted, the process.
Aside from the R&D center, Intel has acquired two local companies, and also has a sales & marketing office.
Ene-Pietrosanu said that Intel has around 450 employees in Romania, most of them in R&D.
The speakers commented that Romania was able to attract fresh foreign investments by enacting a state-aid support scheme.
"The state aid scheme also applies to investors that already have facilities in Romania," said Andreea Mitrea, business consultant at Finexpert, a financial and accounting consultancy.
She added that over EUR 200 million worth of state aid had already been spent by investors that had developed greenfield businesses or expanded their operations. Lufkin Industries, the US-based oilfield equipment maker, has taken out EUR 28.1 million in state aid (the maximum amount) to complete a USD 140 million plant in southern Romania, near Ploiesti.
Dave M. Kennedy, general manager, Eastern Hemisphere, at Lufkin Industries, said that around 370 people will work in Ploiesti by year end. He added that the Ploiesti plant, which focuses on the production of beam pumps, will act as a hub for exports.
New PPP law in the pipeline
The improved regulation of Public Private Partnerships (PPP), which might attract further investments in sectors such as infrastructure and healthcare, is in the pipeline, attendees at the event heard. "There is a new PPP law going through the channels of approval," said Harasim of AmCham.
Pachiu of Pachiu & Associates suggested that Romania look around in Europe, where the PPP framework has been successful.
"The most successful models have been enacted in the UK and partially in France," said Pachiu.
He recommended Romania learn from Britain's experience and turn the state-owned CEC bank into a financial institution for PPPs.
He also suggested the country work to streamline the ratification of petroleum agreements, by creating a committee with representatives from each ministry involved to prevent "huge delays".
According to Harasim, Romania needs to set up new financial instruments for EU funds in the 2014-2020 period. The improved absorption of EU funds is considered one of the pillars that can help economic growth.
US and EU start negotiations on historic deal
The status of the Transatlantic Trade & Investment Partnership (TTIP) was also discussed during the BR event.
The TTIP aims to remove trade barriers between Europe and the US, which would add 3.5 percent in additional output for both regions. Negotiations over the free trade agreement are under way and a deal should be struck by 2015.
According to AmCham, the economic relationship between the US and Europe is the most significant in the world, generating combined trade and investment flows of around USD 2.7 trillion daily. The economic ties between the two regions support 14 million jobs and account for over 50 percent of global GDP and 30 percent of global trade.
The European Centre for International Political Economy estimates that exports between the US and EU would rise by 17 percent by 2015, if tariffs on imported goods were scrapped. Transatlantic trade currently hovers around USD 600 billion per year.
"This potentially ground-breaking partnership would deepen those ties. It would increase exports and decrease barriers to trade and investment, as part of broader growth strategies in both our economies. It would support hundreds of thousands of jobs on both sides of the ocean," said US president Barack Obama during the G8 meeting this June, when negotiations kicked off.
José Manuel Barroso, the European Commission president, reckons the TTIP would allow the two regions to remain "strong global players who set the standards for the 21st century."
"I do not underestimate the core challenge: moving our regulatory regimes closer and addressing the harmful effect of behind-the-border trade barriers. Huge economic benefits are expected from reducing red tape and avoiding divergent regulations in the future. I would rather have our companies invest in new innovative products and services and job creation than in double testing and multiple inspections or even separate manufacturing lines," said Barroso. Herman Van Rompuy, European Council president, acknowledged that negotiations would not be a "smooth ride", as there will be sensitive issues on both sides.
Removing trade barriers would create 2 million new jobs and provide more products at lower prices, according to British PM David Cameron.
ovidiu.posirca@business-review.ro