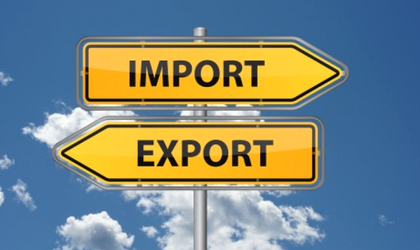 Exports totalled EUR 32.07 billion in the first seven months and imports totalled EUR 36 billion, taking the commercial deficit stood to EUR 3.93 billion, up 16 percent over the same period last year, according to the National Institute for Statistics (INS). In the first seven months of last year, the trade deficit was EUR 3.37 billion.
The value of intra-community trade (intra-EU28) was EUR 23.52 billion for shipments and EUR 27.66 billion for introductions, representing 73.3 percent of total exports and 76.8 percent of total imports.
Extra trade of goods value (extra-UE28) was EUR 8.55 billion for exports and EUR 8.34 billion for imports, accumulating 26.7 percent of total exports and 23.2 percent of total imports.
Important weights in the structure of exports and imports was held by machinery and transportation of equipment (44.3 percent for export and 36.6 percent for import) and other manufactured goods (33.1 percent in export and 31.5 percent for import).
In July, exports stood at EUR 5.04 billion and imports at EUR 5.68 billion, resulting in a deficit of EUR 641.6 million. Compared to June, exports in July rose by 5.8 percent and imports rose by 3.6 percent.
Natalia Martian
Romania is a land of contrast. Business Review helps you make sense of Romania.
Is there something that puzzles you about our country? You might also be interested in this.