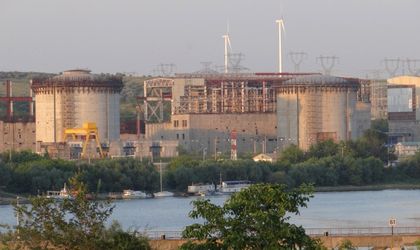 With the country in need of at least EUR 30 billion of investments to modernize its energy generating capacity, experts say that investors are looking at Romania – although constant legal changes could hinder their long-term local plans. Large production investments have yet to materialize as the government is struggling to find investors.
[restrict]
Policymakers said these billions – when they come – would be put into modernizing assets and building new interconnections, as well as strengthening the grid and building more efficient capacities.
Evergreen projects
"What we need is streamlining. We have a worn out base (e.n. of assets) that needs to be replaced. This must be done more aggressively in the coming period than it has been so far," independent energy expert George Cristodorescu told BR.
Big projects, such as the two nuclear reactors at Cernavoda and the hydro-pumping storage plant in Tarnita, which have a combined price tag of around EUR 8 billon, have remained in the planning stage due to a lack of investors. The government, however, says that getting financing for these projects is a priority.
Constantin Nita, the minister of economy, said last week during the Energy Investors Summit that these large-scale investments are in different stages of negotiations.
"These are investments we are willing to make and are part of the government's investment strategy. Some of them have generated a lot of debate, but I assure you of the government's resolve to do them, whether some parties agree or do not agree with them," said Nita.
State-owned China Huadian Engineering is set to start work this year on a new EUR 1 billion generating unit in Rovinari, part of the Oltenia Energy Complex. Another Chinese firm, General Nuclear Power Corporation, has recently extended the letter of intent with Nuclearlectrica, the state-owned nuclear power producer, to develop nuclear reactors 3 and 4 at Cernavoda.
Kari Nyman, lead specialist in the sustainable development department, Europe and Central Asia region, at the World Bank, said that the investment climate for nuclear energy is not favorable right now, mainly due to the accident at Fukushima.
According to media reports, China is also looking to back the construction of the Tarnita plant.
Greater legal risk
Otilia Nutu, energy and infrastructure analyst at think tank Expert Forum, noted that the market demands investments, but the uncertainty of the legal framework increases the investment risk.
"First of all we should stop changing the laws so often because when you start to introduce new laws without consulting anyone, such as the construction tax, or to change the law, such as with renewable energy, you create an unstable environment where nobody dares to invest and expect to recover it for at least three years," Nutu told BR.
She said there was also a problem with inefficient energy producers controlled by the state, which receive an array of subsidies. Some capacities have been operating for up to 40 years and yet are technically bankrupt.
"The amount of energy could be produced by more efficient players because this is what investments mean, to replace inefficient capacities with modern technologies," said the analyst.
However, most electricity production is controlled by the state and any closing of capacities and redundancies would have a huge political cost, according to commentators. For instance, the Oltenia Energy Holding employs 19,000 people and has one of the highest electricity prices on the market. The complex produces electricity and thermal energy from lignite.
"The state should cut the stimulus granted to inefficient pieces in the system. We are continuing direct subsidies for coal. Last year, a government ordinance was issued granting access to the (e.n. electricity) market to Oltenia and Hunedoara Energy Complex," said Nutu.
Investors looking to tap the Romanian market will also have problems finding forecasts of demand for electricity and gas in the coming years. The best estimates are currently made by Transgaz and Transelectrica, the operators of the gas transport network and electricity grids, which use them to plan their own investments.
In the meantime, some state-owned energy companies have been listed and attracted financing to fund their investment program. Last year, the government sold minority stakes in Nuclearlectrica and Romgaz, the gas producer, through initial public offerings on the Bucharest Stock Exchange. The IPO in Electrica, the electricity supplier and distributor, should kick off in mid-June with the offering expected to raise up to EUR 400 million. A 51 percent stake in the company will be sold in Bucharest and London and the proceeds used to improve the company's transport infrastructure.
Kari of the World Bank suggested that the pipeline of IPOs has attracted foreign investors, adding that Romania "has a good investment environment right now".
Making offshore and shale gas count
Romania is set to reach energy independence by the end of this decade on the back of fresh gas production in the Black Sea, according to commentators. Shale gas would also play a significant role. US oil major Chevron has just started exploring shale gas in the Moldova region and commercial exploitation could start by the end of this decade.
However, the government will need to back this sector, as shale gas has generated controversy in Europe due to concerns regarding the impact of fracking (the process of pumping water, sand and chemicals at high pressure to break shale rocks) on the environment.
US oil major ExxonMobil is jointly seeking gas in the Black Sea with Austria's OMV Petrom. The companies have found a gas deposit containing between 42 and 84 billion cbm in one block.
Now the question is to what extent this significant gas deposit will benefit the local economy.
"There has to be a market on which companies can sell gas. For a long time Romania used to regulate gas market contracts very closely, either directly or indirectly. That is now changing and liberalization is underway," Nyman, of the World Bank, told BR.
He argued that the development of the gas market should follow that of electricity where there is a developed market for traders.
This could, for instance, convince Exxon to sell some of the gas in Romania instead of selling all the output abroad.
"From their perspective, the closer to production they sell it, the better. So they are not looking to ship it to the other side of Europe," said Nyman.
Black Sea gas should be transported through Romanian infrastructure and Transgaz will have to invest to develop the network.
According to Nyman, the financing environment has improved lately, which should make it easier for Romania, which has good macroeconomic figures, to tap the international financial markets and fund some energy investments.
Ovidiu Posirca
[/restrict]