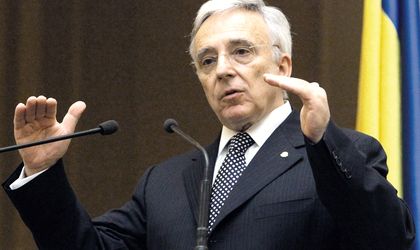 At the end of last year Romania's banking system stood above the EU median concerning several indicators, as per an analysis by the National Bank of Romania (BNR) based on the European Banking Authority's Risk Dashboard.
Our banking system stood within the best prudential interval both in September and December 2015, while the EU median stood at "intermediary" for almost all indicators.
The system's profitability was well above the EU values of 6.4 percent, with the Return on Equity (ROE) jumping 5.6 percent to 13.2 percent in December 2015 from September of the same year.
The cost-to-income ratio fell within the intermediary interval, at 57.6 percent, a bit lower than the EU median of 59.8 percent.
Indicators of the balance sheet structure of  Romania's banking system were also within the best interval, with credits and advances standing at 78.2 percent of total deposits in December 2015 (the EU median stood at 123.3 percent). When it comes to debts over own capital, our banking system ranked very well at 8.1 percent, as opposed to the EU, which stood in the worst interval with 15.4 percent.
As compared to other indicators, nonperforming loans and restructuring measures loans fall within the worst band of reference, at 13.6 percent and 8.59 percent, respectively. However, there has been an improvement for both types of loans over the values registered in September 2015 (15.7 percent and 9.6 percent, respectively).
These vulnerabilities are, however, mitigated by the third indicator for the analysis of asset quality and degree of provisioning of bad loans, which positions the Romanian banking system within the most prudent interval value, well above the European average (at 57.3 percent as compared to 43.6 percent).
In an interview BNR's governor, Mugur Isarescu, had with Radio Romania Actualitati, he reinforced the idea that "Romania's macroeconomic state is at present among the best in the region," though there are people who are dissatisfied. He added that, even though people who have been hit by the crisis are in their right to be so, the bank has a duty to "establish a balance between what happened in Romania in reality". Underlining that the state has not aided Romanian banks, he said that "the solidity of Romania's banking system during this period was not questioned".
Natalia Martian