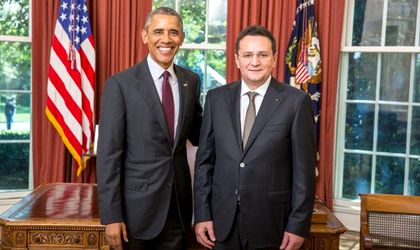 Romania's ambassador to US George Cristian Maior presented his letters of credence to US President Barack Obama, to whom he extended Romanians' warm feelings toward the US, shows Agerpres.
"The strategic partnership is an important pillar for Romania's foreign and security policy. The US support has helped Romania on the way to democratisation, human rights observance and adherence to the rule of law, making Romania a model for the countries in its geographical region," ambassador George Maior is quoted as saying.
Maior unveiled to Obama the priorities of his diplomatic mission: developing security cooperation; strengthening the economic dimension and commercial exchanges; encouraging investment and know-how transfer; consolidating energy security, as well as intensifying cooperation in the areas of education and innovation.
"Romania is firmly committed to improving its business environment, which is vital to attracting American investment and increasing trade," said Maior.
Accompanying the ambassador to the White House ceremony were his wife and two children, the Romanian Embassy reports.
Natalia Martian