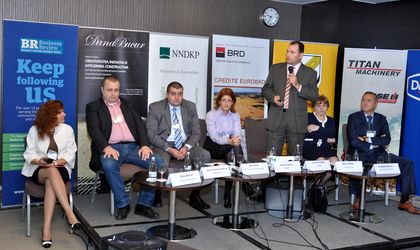 This year's drought and its negative impact on the agriculture and food processing sectors has made it clearer than ever that Romania needs a coherent and well integrated strategy in order move beyond the interminable debate about the country's much lauded agricultural potential, urged participants in the second edition of the Focus on Agriculture event organized by BR.
By Simona Bazavan
"In 2011 when God was agriculture minister in Romania and it rained, we had the best agricultural year. In 2012 God no longer filled the position, we had drought, production collapsed and farmers started asking the government for money. This too is because of a lack of strategy. We shouldn't depend on rain," said Dorin Cojocaru, the general director of the Romanian Dairy Processors Organization (APRIL). He stressed the need not only for a coherent national agricultural strategy but also one integrated within the national economic strategy.
The present reality, however, is very far from this. In Romania farmers and producers talk with agriculture ministers instead of with the agriculture ministry, agreed participants.
Each time the minister changes so does the government's agricultural strategy, they complained. "Romania lacks any strategy. If I were asked what Romania's strategy is related to agriculture and howthis sector will look in 20 years' time I couldn't say because no one knows. Romania should decide once and for all what it is it wants," said Johannes Becker, owner of Becker Consult.
Setting clear targets is necessary for the coherent development of production chains, said Neculai Apostol, general manager of Kosarom. The consequences of a lack of strategy are obvious throughout the entire sector, from vegetal production to food processing.
A good example is the meat processing industry, he said. At present Romania imports some 70 percent of the pork needed by meat processors when this could readily be provided by internal production. Lack of financial support for zootechnics among other factors has led to the present situation.
The dairy sector is also affected, but in this area the negative effects of the government's absence of strategy over the past decade will be felt particularly after 2014 and 2015, warned participants.
By January 2014, all dairy farms and dairy processors in Romania have to produce and process only EU quality/safety-compliant milk, a deadline for which the vast majority of family-owned and small-scale farms in Romania are unprepared.
Moreover, milk quotas will expire and production will be liberalized in 2015 throughout the EU, so the local market risks being flooded with imported milk and dairy products.
 Farmland prices to go up
Despite these setbacks and many others, Romanian agriculture remains an attractive investment destination for both large players and entrepreneurs, said Dana Bucur, agribusiness consultant at www.agriland2000.com. A reason for this is the low cost of farmland on the local market. With prices expected to go up over the coming years, buying local farmland is a good investment opportunity, she said.
Romanian farmland currently costs between EUR 1,000 and EUR 5,000 per hectare whereas just over the border, in the EU, prices go beyond EUR 8,000 to EUR 10,000 per hectare, said Victor Ciuperca, area manager at AMB Holding. In Romania, too, farmland prices will go up, he said.
Developments in this area over the next couple of years will be influenced by three main factors – profiteering, land consolidation and production, he added.
Participants at the event also discussed prospective developments after January 1, 2014, when foreign citizens and companies will be able to buy farmland in Romania. The topic has been extensively debated locally over the past year, with many politicians and industry representatives voicing concerns that low farmland prices in Romania will lead to a land rush by foreigners.
The minister of agriculture, Daniel Constantin, has recently said that the authorities will take measures to prevent a phenomenon which "has frightened a lot of people" by proposing measures to limit foreigners' access.
Such fears are unjustified, stressed many of the event's attendees, who argued that Romania stands only to benefit from the investments and know-how brought by foreign investors.