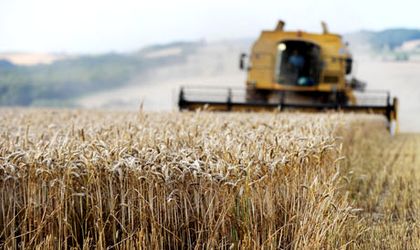 Romania's 2013 agricultural production will amount to some RON 80 billion (approximately EUR 18 billion) which is RON 13 billion (approximately EUR 3.9 billion) above the level reported the previous year, according BCR data. About half of the RON 13 billion increase represents gross added value, explained Eugen Sinca, BCR's chief economist.
This year's good agricultural production will fuel economic growth which BCR estimates will be 2.5 percent. Out of this, agriculture will generate one percent. "Without agriculture, the economic growth would have been 1.5 percent," added Sinca.
The increase in production is good news, however this was only a "fortunate coincidence", he explained. The growth was generated by good weather unlike last year when the drought affected most crops, said BCR's chief economist, adding that the RON 80 billion production reported in 2013 is similar to the level reported in 2011 and any other year with good weather conditions.
In order to reduce weather dependency, part of the RON 13 billion should go into investments for equipment and irrigations, he recommended. According to a BCR report, the average Romanian farm owns only 4 pieces of agricultural equipment such as tractors and harvesters, compared to 44 in Poland and 120 in France.
The same report shows that at the end of 2012, foreign direct investments (FDI) in the agriculture sector amounted to EUR 1.4 billion which represented 2.4 percent of the total stock of FDI attracted by Romania up to that date. This made Romania the country which had attracted the highest level of agriculture FDI in the region, well ahead of Hungary, Poland, Bulgaria and the Czech Republic.
Nevertheless, most of these investments went into the production of commodities and not the food industry. A direct consequence of this is that at present Romania continues to be a net importer of food products. In the first semester of 2013, Romania reported a trade deficit of EUR 700 million for processed food products while for agricultural commodities it reported a  EUR 165 million trade surplus, according to BCR data.
Simona Bazavan