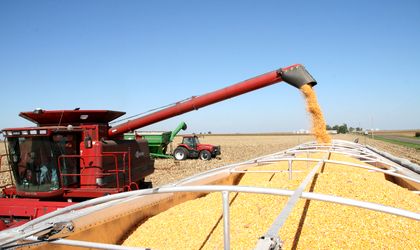 Last year's drought has severely affected Romania's agriculture causing reduced productions for all crops except sugar beet, according to data released today by the National Institute for Statistics (INS).
Romania's 2012 grains production was 12.69 million tons, down by 39 percent y-o-y mainly because of reduced yields (ton per hectare). The average yield for corn was down by 52 percent, wheat by 28.4 percent, barley by 25.8 percent and oat by 13.9 percent. 
Corn crops represented 50.4 percent of the surfaces cultivated with cereals while wheat crops counted for 36.7 percent.
Although last year Romania had the largest surface  (2.7 million hectares) cultivated with corn at EU level, it reported the third largest corn production after France (1.7 million hectares) and Italy (0.98 million hectares). Overall, Romania produced 2.17 tons of corn per hectare, considerably below the 6.15 t/ha reported at EU level.
In 2012 Romania was the fifth largest wheat producer in the EU both in terms of surface and output but reported the lowest yield, according to INS.
Romania had the largest surface cultivated with sunflower last year but reported the second largest production after France as the average yield was 18.1 percent below the EU level.
In 2012 Romania was the 7th largest potatoes producer in the EU although it had the third largest cultivated area as the yield was 63.7 percent below the EU average.
Overall, Romania's vegetable production in 2012 was down 17.2 percent y-o-y as both cultivated surfaces and yields decreased.
Simona Bazavan