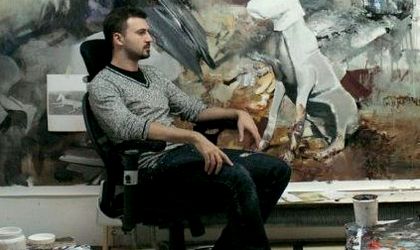 The entire art world knows who Adrian Ghenie is, courtesy of some of the famous art auction that made everyone talk about the value of his paintings. Titles like "How Adrian Ghenie conquered the art market" are still common, while the auctions' prices continue to grow. But how? The Art Newspaper magazine explains it in a analysis made about the Romanian artist Adrian Ghenie: "Collectors soon turned to the secondary market.
Alex Branczik, the head of contemporary art for Sotheby's Europe, recalls Ghenie's evening sale debut in February 2013, when a visceral portrait of the Nazi physician, Dr. Mengele 2 (2011), sold for £121,250 against an estimate of £30,000 to £40,000. "Typically," he says, "we'd do that when we know that there are serious collectors interested and when demand outstrips supply." A year later, Sotheby's sold The Fake Rothko (2010) for £1.4m (est £250,000-£350,000), and then Ghenie's take on Van Gogh and degenerate art, The Sunflowers in 1937 (2014), in February 2016 for £3.1m (est £400,000-£600,000). Branczik adds: "The people who are bidding and buying are some of the world's top collectors; that's what sustained it."
His work has been compared to Francis Bacon and Mark Rothko. According to www.artnet.com , he has been the subject of solo exhibitions at institutions such as the Museum of Contemporary Art, Denver, the Stedelijk Museum voor Actuele Kuns, Ghent, and National Museum of Contemporary Art, Bucharest. His work has also been featured in exhibitions at the Palazzo Grassi, François Pinault Foundation, Venice, the Tate Liverpool, the Prague Biennial, the San Francisco Museum of Modern Art, and the Fondazione Palazzo Strozzi, Florence, among others. Ghenie's work is held in a number of public collections, including the Hammer Museum in Los Angeles, the Los Angeles
Museum of Contemporary Art, the Museum van Hedendaagse Kunst in Antwerp, the SFMOMA, and the Stedelijk Museum voor Actuele Kuns.
For understandable reasons which Adrian Ghenie explained to the Romanian public in 2016 , he doesn't offer interviews. But The Art Newspaper has a comment from the artist regarding his success: "I think that every young or mid-career artist is a case open to debate (from an artistic point of view). They are judged as work-in-progress artistic phenomena, and as long as their prices are low the conversation around them can be well-balanced. But when an artist like that scores millions at auction, a balanced debate is compromised. People start to be hysterical, over-confident or hyper- skeptical, highly subjective, jealous, etc. This is my case entirely. If you ask me what I wish for the
future, I would say that I would like to go back to a sort of normality, but it is hard to define that normality… I don't really have many colleagues of my age to ask 'how did you survive this tsunami?'" So probably Adrian Ghenie is the best tsunami in the art world that Romania could give in this 100 years of being a modern state.