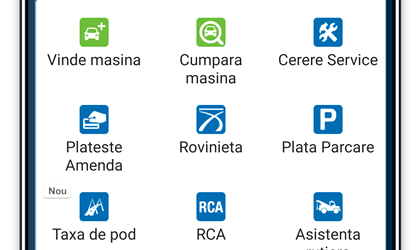 In the last year Romanians made 80,000 mobile payments for car taxes, using the Auto.ro app, representatives announce. 30,000 transactions were registered the vignette tax, 20,000 for fines, 20,000 payments were for bridge fees from Fetesti – Cernavoda and another 10,000 were for other payments such as: roadside assistance cards, MTPL insurance policies, parking,  car sales ads and travel insurance.
Of the drivers in Romania who prefer mobile payments, 75 percent chose 7 days vignettes, followed by 17 percent who chose vignettes for 1 day. Only 5 percent of drivers opted for the 12-month vignettes and 3 percent for 30 and 90 days vignettes.
By paying fines within the two days limit, drivers pay half of the tax owned, and the app assists them in doing so by making payments available to them at anytime and anywhere, including at weekends and outside working hours.
"The trend of mobile payments is rising, more and more drivers are choosing to streamline time and money. For 2016 we expect an increase of 50 percent, thus exceeding 120,000 auto payments made from mobile phone, using the app," said Sergiu Gamureac, Auto.ro executive director.
Auto.ro application has reached 460,000 installs and has over 4,700 reviews. It offers a range of mobile payments including vignette, bridge tax, fines, road assistance, MTPL, parking, travel insurance and other services such as service requests, a map of useful locations and sales ads.
Natalia Martian