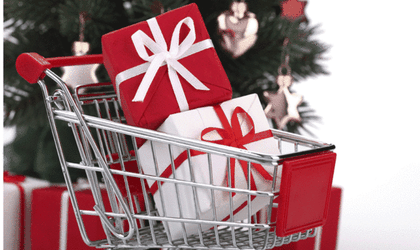 Though having the smallest revenues among 14 other countries, Romanians intend to spend the largest share of it for Christmas shopping, according to a study by ING. With a net monthly revenue of EUR 346, Romanians spend 32 percent of it for Christmas shopping on average (EUR 110).
As a comparison, in Poland people have net average revenues almost double the ones in Romania (EUR 634), but they give 11 percent of it (EUR 70) for Christmas related expenditures, while inhabitants of the Czech Republic spend 25 percent of their EUR 726 average income.
The biggest sums allotted for festive shopping can be found in the United Kingdom (EUR 420 – 15 percent of their salary), USA (EUR 360 – 15 percent) and Luxembourg (EUR 300 – 9 percent), while the lowest ones are registered in Romania (EUR 110), Poland (EUR 70) and the Netherlands (EUR 40).
Romania, along with the UK, are the countries in Europe most likely to save for Christmas and to spend more this year on presents, while also being most likely to go into debt to do so. In Romania, 42 percent of respondents said they save for Christmas shopping, with 18 percent even having a dedicated account for this. The UK has similar shares (43 percent of people save, and 23 percent use a special account), while the EU median stands at 33 percent of people who put money aside, with 16 percent having a separate account.
When it comes to intention to spend more, Romania showed the largest share of people who plan to do so (26 percent), followed by the UK (24 percent). At European level, only 16 percent of respondents said they would.
In terms of willingness to go into debt to pay for Christmas, 9 percent of Europeans say they did in 2014, while in Romania 16 percent of respondents did so (followed once more closely by the UK, with 15 percent).
At the other end of the scale, the Netherlands presented the lowest share of people willing to save, spend or indebt themselves for Christmas related expenses, with 11 percent of them saying they put money aside, 6 percent planning to splurge and barely 3 percent of them using credit for their festive shopping.
Another finding of the study is that more than seven in 10 people in Europe who plan to make New Year resolutions for 2016 will include a financial goal. Romania stands around the European average, at 72 percent.
By far the most popular choice of resolution is "I want to save more" – 41% of people in Europe who plan to make a resolution for 2016 selected this option, with two other choices dividing equal shares of 27 percent: "I want to reduce my debt" and "I want to manage my money better by controlling the amount I spend". In Romania the favorite was the last option, with 38 percent of the answers, followed by 32 percent who want to save more.
The survey was done by Ipsos for ING with a respondent base of 14,837 people in 14 countries: Austria, Australia, Belgium, the Czech Republic, France, Germany, Italy, Luxembourg, the Netherlands, Poland, Romania, Spain, the UK and the USA.
Natalia Martian