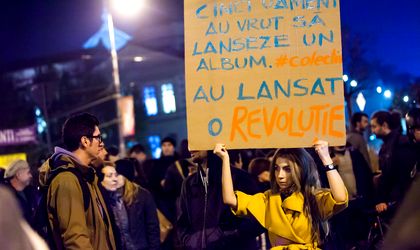 A third day of protests aiming to take down the corrupt political system took place on Thursday evening in Universitatii Square of Bucharest. Announced on social networks and expected to be attended yet again by thousands, the protest has started at about 18:00 with 200 people, the group growing steadily since.
At 19:00 there were already 6,000 estimated people in the square, the group reaching 8,000 around 21:00 and 12,000 at 22:00.
For the third day, traffic was diverted from the center of the city, while the peaceful protesters were surrounded by police. Some of the participants were waving flags, some were singing the national anthem.
Across the country support protests have taken place during the evening in Timisoara (2,000 people), Constanta (2,000), Sibiu (1,000), Suceava (1,000), Braila (500), Pitesti (500), Cluj-Napoca (400), Alba Iulia (300), Galati (300), Buzau (300), Arad (250), Targu Mures (250), Drobeta Turnu Severin (200), Ploiesti (200), Targoviste (100) and Tulcea (100).
Earlier in the day, President Klaus Iohannis announced a premiere in the process of selecting a new PM, saying he would be consulting the civil society beside the political parties. "I saw you, I heard you, I will take into account your requests," he said about the large group of people who have been going to the streets since Tuesday evening.
Photo by Mihai Constantineanu
Natalia Martian