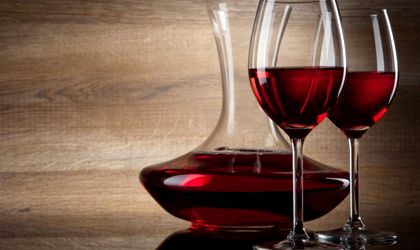 Wine consumption, and red wine especially, registers increases of over 50 percent during winter holidays as compared to other months of the year, according to National Vine and Wine Patronage (PNVV) General Director, Ovidiu Gheorghe, quoted by Agerpres.
"During the winter holidays wine trade increased by over 50 percent compared to a normal month, and particularly the consumption of red wine, though Romanians usually choose white wines, about 60 percent of total wine. Although there are no market studies, total wine consumption in December is estimated at 50 million liters, but only 40 percent comes from taxed market," said the Gheorghe.
PNVV estimates wine production this year within the median of previous years, with just over four million hectoliters. In terms of quality, the vintage year 2015 was atypical, with variations in quality and quantity per hectare from one region to another.
"Paradoxically, although the summer and autumn were auspicious for vine cultures, with sufficient rainfall and prolonged period of heat, while this aspect is generally favorable for high quality wines, it created problems for growers in certain vine areas (in particular Moldova, Vrancea). Very high temperatures blocked the grapevine photosynthesis in some plots and slowed down the accumulation of sugars in the grapes. However, this does not have relevant impact nationally, because information we gathered from wine producers shows there are high expectations on the quality of wines from renowned manufacturers who have followed closely the correct and timely plant treatment," explained the Patronage general director.
At European level, Romania is among the important wine producers, though at a considerable distance from Italy, the world leader with a production of 48.9 million hectoliters in 2015, which is followed by France with almost 47.4 million hectoliters.
According to data published by the International Organization of Vine and Wine (OIV), the wine production in Romania increased by 9 percent in 2015 to 4.069 million hectoliters from 3.750 million hectoliters in 2014, the country ranking 13th in the classification of world's largest producers of wine.
Annual wine consumption in Romania reaches 25 liters per capita, standing at about half the numbers registered in more developed countries (over 50 liters per capita). In France consumption reaches 58 liters per capita, while in Italy it stands at 53 liters per capita.
Natalia Martian