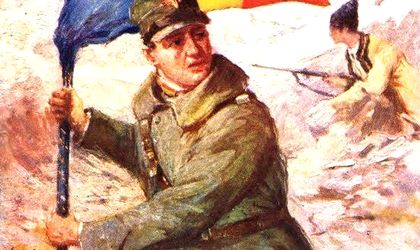 The traveling exhibition "Romanians and the Great War" makes a new stop at the Provincial Palace in Bruges (Belgium), show representatives of the National Museum of Romanian History (MNIR). The exhibition has already been presented in Brussels, Marche-en-Famenne and Aalst and will be open for visits in Bruge from July 8 to 22.
The exposition will show  the Flemish how the Kingdom of Romania participated in Great War, covering topics from socio-political context, neutrality adoptions, the 1916 and 1917campaigns, Central Powers occupation to the role of the Red Cross and aviation. The panels contain numerous documentary photos, iconographic testimonials and documents from the archives of the participating institutions and private collections. Among them there are also stories about the Belgian situation during the conflagration.
The "Romanians and the Great War" exhibition falls within the series of events dedicated to the commemoration of the centenary of the First World War in the Benelux region, between 2014 and 2018.
Exhibitions dedicated celebrating the centenary of the First World War were presented during 2014 in Milan and Rome, Chisinau and in 2015 to date in Brussels and Aalst.
With the help of the Belgian Embassy, ​​the exhibition will continue to be presented to the public throughout 2015, next targeted destinations being Leopoldsburg (September-October) and Namur (December).
The opening in Bruges took place on July 8, in the presence of Stefan Tinca, the Romanian ambassador in Belgium, Carl Decaluwe, governor of West Flanders, Robert Adam, director of Romanian Cultural Institute in Brussels and dr. Cornel Constantin Ilie, deputy director of the MNIR.
Natalia Martian