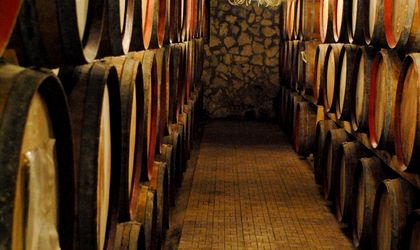 Although premium bottles are estimated to represent up to 10 percent of the Romanian wine market, the upmarket niche has become the industry's rising star, growing steadily over recent years, driven both by demand from more refined local consumers and from foreign markets. And the trend should only get stronger, producers told BR.
Simona Bazavan
To put it simply, a premium wine is the very best a winery has to offer in terms of quality. Everything matters – from the characteristics of the soil, the age of the vine, the weather conditions and time of harvest, the selection of the grapes, the expertise of the winemaker, the technologies used, the storage and aging process to the shape of the bottle, the label's texture and the story behind the brand.
Such wines are increasingly in demand locally, producers say, which has led to the local industry experiencing something of a mini-boom of late, with foreign investors as well as Romanian entrepreneurs acquiring a taste for the viticulture business and premium wine production in particular.
Premium wines can be found almost exclusively in HoReCa and specialized wine shops, the number of which has also been going up in recent years, both online and offline, for prices of over USD 5 per bottle or between EUR 10 and EUR 25, according to producers' estimations.
Winemakers have mixed projections about the overall evolution of the Romanian wine market. While some are confident the market will see some growth, others are less optimistic and even expect drops.
"Considering that the purchasing power of the Romanian consumer has been decreasing over the past couple of years, I think that a level similar to the one reported last year is a realistic estimation, or even a little optimistic," Roxana Sabau, key account manager at Serve, told BR.
However, one aspect on which everyone agrees is that consumption behavior has changed over the past couple of years and a certain polarization has taken place. "We can see a migration […] towards the two extremes of the market – bulk wine or bag-in-box on one hand and a small share of the public which can afford to upgrade to quality premium wine, locally produced or imported, on the other hand," she outlined.
Regardless of how the total wine sales have evolved or what can be expected from 2013, the premium niche has been growing for the past couple of years and, more importantly, will continue to do so, producers stress. With no official data available so far, premium sales are estimated to represent up to 10 percent of a total market which reached EUR 400 million in 2011.
The Romanian wine market will expand in 2013, and the premium segment in particular, Aurelia Visinescu, winemaker and managing director of Domeniile Sahateni, told BR. "This segment is growing slowly but steadily because consumers are developing an increasing interest in premium wines and are more willing to pay more for such wines," she said.
Mircea Niculescu, sales director at WineRo, predicts the total market will post a decrease this year but stresses that the full half of the glass is that as consumers grow more knowledgeable, the niche for premium wine expands. The trend started in 2011, says Niculescu, and will probably continue in 2013. Imports of premium wines have also gone up, but locally-produced premium wines cover most of the demand, he believes.
Others agree that the high end of the market is holding its ground. "Consumers are starting to care more about the quality level of the wines they drink and one can see they are paying much more attention when choosing wine," Ioana Micu, executive manager of Amb Wine, told BR.
And while consumption behavior and preferences can change on a yearly basis, "the direction towards quality wine is clear," added Ciprian Rosca, commercial director at Recas Winery.
Another driver is wine tourism which has been catching on locally too, Walter Friedl, partner with Lacerta Winery, told BR. "There is a trend towards wine tourism. Romanian wine consumers are very interested in the production of wines and enjoy learning more about them and the pairing of wine and food," he told BR.
The premium market continues to be dominated by the large Romanian wine producers who over recent years have invested in the production and marketing of premium products. However, the growth potential of this market can also be seen from the fact that several wineries that own fewer than 100 hectares of vineyard and take pride in producing solely premium wines have been set up, even during the crisis years.
One of these investments is the Vila Dobrusa vineyard estate in Dragasani, which produces exclusively premium wines under the Avincis brand.
"We can see a rather important focus on premium wines coming from Romanian consumers, that there is interest in the niche wine produced by small wineries such as Avincis and that local varieties are being increasingly sought," Cristiana I. Stoica, owner of Vila Dobrusa, told BR.
Despite this growing interest, competition is getting fiercer, both on the domestic market and abroad, and purchasing power restraints are affecting even the premium segment, she adds.
"At present, not only in Romania but also abroad, the wine consumer is more reserved, spends less, consumes less, but at the same time the demands he or she has from a premium wine are the same. Therefore, the premium market itself will have to be diversified," argued the Avincis owner. A good price-quality ratio is essential; however, this doesn't always come easy as making premium wine means higher costs and more consistent investments than for a regular variety, she notes.
Premium wines represent a strong focus in the future strategy of local winemakers, even if they are addressing more than just this market segment.
Recas Winery has three premium brands in its portfolio – Sole, Solo Quinta and Cuvee Uberland – and says it plans to further expand in this direction as it has had the best performance in recent years and will most likely remain on an upward trend. Ever since 2008, premium wines have represented more than 20 percent of the producer's sales. The Recas group of companies had a combined turnover of some EUR 20 million last year, which it plans to boost by 15 percent in 2013.
However, growth is mostly expected to come from external markets, where last year it exported some 3 million bottles of wine to countries such as England and other European markets, the USA, Canada, Japan, Russia and Australia. Exports should grow by another 1 million bottles this year.
WineRo is another producer of exclusively premium wines. The company, which was set up in 2006 and whose shareholders include Stephan von Neipperg, who owns several vineyards in Bordeaux, and Karl-Heinz Hauptmann, a former director at Merrill Lynch London, owns the Alira brand. It plans to sell some 100,000 bottles this year and start exporting.
At Domeniile Sahateni premium wines represent some 70 percent of total sales and more than half of the winery's volumes are exported across the world – from European countries to Taiwan and Canada and even Brazil. Last year the company reported a turnover of some EUR 2 million which it plans to grow by 30 percent this year.
Lacerta too estimates rising sales of up to EUR 1 million in 2013, up 20 percent y-o-y, says Friedl.
Amb Wine is another recent wine investment. The winery, which is part of Austrian amb Holding, launched the Liliac premium brand in early 2012 and estimates this year it will reach a turnover of RON 1.6 million (approximately EUR 360,000). The wine is available only in HoReCa and specialized shops but this year the company also plans to launch a retail brand under the name of Crepuscul. So far the winemaker has targeted the local market but has also exported to Austria and Germany, says Micu.
Elsewhere, approximately 35 percent of Serve's sales on the domestic market and 10 percent of exports are represented by premium wines such as Terra Romana, Cuvee Charlotte and Amaury. Although domestic sales of premium wines went up by as much as 30 percent last year, Sabau doesn't see significant growth potential locally.
Outside Romania, demand comes from China and even Northern Europe, following the poor wine production across the continent in recent years, which led to consumers trying new wines, including Romanian ones. All in all, the company plans to increase its share of premium wines to 70 percent of total production, and after reporting a turnover of EUR 2.5 million last year, expects a 5 percent growth in 2013, says Sabau.
Uncorking external markets
To say that Romania has the potential to brand itself as a producer of wine, and why not a producer of premium wines in particular, has become a redundant topic locally, but the reality outside the country is that Romania and wine are not often associated.
"The greatest issue is low awareness and of course the bad reputation of Romanian wines. Abroad we are known as producers of cheap and poor quality wine. This is something that small Romanian premium wineries like us are trying to change," says Niculescu.
Nevertheless, the past years have brought major changes for the local premium wine industry, but although there have been "remarkable improvements, we still have a long way to go until we are recognized at international level," added Visinescu.
There have been numerous individual successes over the past year and international awards won by Romanian winemakers, but this is not enough to create momentum.
"Romania will reach the level where it is recognized as a producer of premium wines only when it manages to build a unitary strategy for external promotion. Individual promotion by each producer is not sufficient to create the message of a premium-wine producing country," argued Micu.
However, the investment in a promotion campaign with a global impact is not something that can be borne by a single producer or even a producers' association, says Sabau, stressing the need for at least a medium-term national strategy in this direction and financial support from the state.
"The New World – Chile, Argentina and New Zealand – has invested millions each year for more than a decade in order to position themselves as wine producers. The money came from the countries' governments as part of a program of strategic importance. Only something like this could help us," she added.
Nevertheless there is reason for cheer. "We believe that Romanian premium wines will be (re-)discovered in the coming years. There have recently been some very nice articles about the 'NEW, new world of wines' in Eastern Europe with Dealu Mare as the 'New Bordeaux' in that new wine region in the world press," said Friedl.
simona.bazavan@business-review.ro