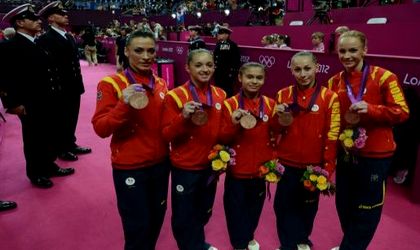 With a final score of 176.414, the Romanian women's gymnastics team picked up a bronze medal in the team event. For this competition, the US team took the gold and Russia won the silver medal position. The female gymnastics team consists of Cătălina Ponor, Sandra Izbaşa, Diana Bulimar, Diana Chelaru and Larisa Iordache. They placed Romania on the Olympic podium, from where female gymnastics team has not been absent since 1976. At the Beijing Olympic Games, the Romanian team won bronze, after gold in 2000 and 2004.
The Romanian women gymnastics performed extremely well on the floor and the beam as best events, coming second after the US. Unfortunately, Romania's worst event was the uneven bars, finishing last out of the eight teams in the final with a score of 41.465.
This was the fourth medal in the Olympic Games for Romania, after Alin Moldoveanu's gold (shooting competition – 10 meter air rifle), Alina Dumitru's silver (judo, cat. 48 kg) and Corina Căprioriu's silver (judo, cat. 57 kg).
Photo courtesy of Romanian Olympic and Sports Committee
Oana Vasiliu